The next QVC Show is Monday, June 5, more info
---
Dave Fetty captures the essence of the sea and sky of the Caribbean.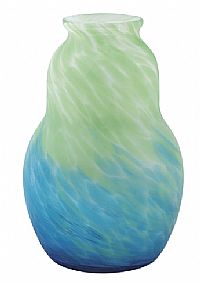 Glass artisan Dave Fetty developed a special process to create this spectacular vase, capturing the essence of the sea and sky of the Caribbean. Multiple layers of crystal and powdered glass in white, blue and green are carefully combined by Dave to produce this dramatic result. No two will be exactly alike...but all will be beautiful! Limited to 750 pieces.
• To buy the 7 1/2" Dave Fetty Caribbean Day Vase
• To shop for Dave Fetty Exclusives
---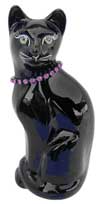 The Fenton Gift Shop introduces the Glamour Cat, a 2006 Gift Shop Exclusive
This irresistible and alluring Black "Glamour Cat" with yellow eyes or green eyes and a fashionable gemstone necklace will be sure to charm every cat collector or lover of fine beauty. Produced as a Gift Shop Exclusive, it bears the FGS 2006 Exclusive Logo on the bottom.
Gemstone necklaces are available in the following colors: Purple, Light Pink, Dark Green, Dark Pink, Orange, Royal Blue, Light Green, Light Blue, Red and Crystal.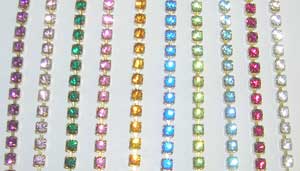 • To buy the Green-Eyed Glamour Cat
• To buy the Yellow-Eyed Glamour Cat
• To shop for Gift Shop Exclusives
---
Teleflora's Fenton Art Glass Bouquet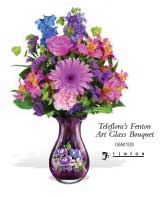 Over the past few weeks you have most likely seen references to Fenton in magazine or television advertising for Teleflora, a worldwide organization. We've received emails and phone calls regarding our relationship with Telaflora and we have responded quickly to any questions our collectors might have about the piece. The vase shape and decoration were designed by Fenton but the manufacturing was sourced by Teleflora. The vase has a sticker on the bottom: "Designed by Fenton. Made in China." All efforts were made to manufacture the piece in West Virginia. Benefits working with Telaflora strictly support our facility here in the U.S.A.

One of our goals for the future is to see Fenton glass in more flower shops, and this licensing relationship with Teleflora will support that goal. Over the past several years, Teleflora has worked with other well-known companies, such as Waterford, Crayola and Spode. We feel that this association with Teleflora will bring the Fenton name to a marketplace in which we have had little previous activity. More than 27,000 flower shops are associated with Teleflora.
We hope you enjoy this unique piece.
---
Open House Rep Events
At a Fenton Art Glass Open House, you will truly experience Fenton. Tour the Fenton factory on video, meet and learn more about Fenton glass from a Fenton Sales Representative and enjoy the opportunity to purchase exclusive pieces handcrafted in America and only available at Rep Events.
3 1/2" Chocolate glass elephant, inscribed with Scott Fenton's signature
May 20
Pine Cone Manor, 2 pm - 5 pm, 6002 Hwy 93 South,
Eau Claire, WI, 715-831-6447
May 21
Randy's Gifts, Noon - 3 pm, 867 Grand Ave.,
St. Paul, MN, 651-312-0303
• For a complete list of rep events
---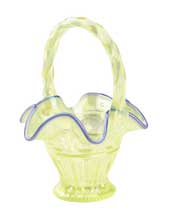 Family Signing Events
Mark your calendar! A member of the Fenton family will personally sign your Family Exclusive pieces and all Fenton purchases. Reserve yours today. Check the schedule below for the location of an event near you!
7 1/4" Topaz Basket
3 3/4" Topaz Bowl
(Not Pictured)
May 19
Osceola Drug, Mike Fenton, 11 am - 2 pm,
Osceola, IA, 641-342-2014
May 20
Pine Cone Manor, Mike Fenton, 2 pm - 5 pm
Eau Claire, WI, 715-831-6447
May 21
Randy's Antiques, Mike Fenton, Noon - 3 pm
St. Paul, MN, 877-924-2400