Fenton Art Glass and QVC: The Beginning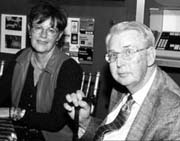 Fenton Art Glass and QVC have established a very strong relationship over the years. Though the precise date of Fenton's first contact with QVC is uncertain, it was 1987 when
Shelley Fenton Ash was contacted by Whitney Smith of QVC to explore the possibilities of marketing Fenton products on QVC. Soon after, Shelley and Bill took off to West Chester, PA. Once they arrived, they met with QVC officials to further discuss selling Fenton

products on QVC and to show them samples of glassware they brought from the factory.
The Birthstone Bears were decided to be perfect for QVC because they made excellent gifts and had considerable collectible appeal too. These bears were the FIRST Fenton product to ever appear on QVC. QVC ordered a quantity of Birthstone Bears for all twelve months. The bears sold briskly and were quickly reordered by QVC. Since that first bear, over 1,400 different Fenton pieces have been sold on QVC. What started off with one item, has turned into multiple-hour broadcasts of Fenton Art Glass each year. Fenton and QVC have built a strong and multi beneficial relationship that tells the story of Fenton, and begins to communicate the "Fenton Experience" to existing and new collectors nationwide.

What are Shelley's Keepsakes?
Shelley's Keepsakes are a special collection of limited edition handpainted items chosen by Shelley Fenton Ash, granddaughter of company founder, Frank L. Fenton, for QVC.com.
Shelley has been involved with product development for Fenton Art Glass since 1982. In 1988 she and her father, Bill Fenton, began working together to develop art glass items for QVC. While Bill was a guest on many QVC shows from 1988 until his retirement in 2002, Shelley remained behind the scenes focusing on new products. "I will always have wonderful memories of sitting in Dad's office dreaming up different items for QVC. Dad was so creative, but often had to interrupt and tell me a joke or story during our work sessions. He was so fun to work with!"
Upon her father's retirement, Shelley began working closely with Nancy Fenton, Director of Design, to create the beautiful products you see on QVC. "Nancy and I also have a great time working together. We have similar tastes and normally see eye to eye on most things. This is probably one of the most enjoyable parts of my job...bouncing ideas off each other for new products." George Fenton is also very involved in the approval process of new designs.
Shelley started working on the development of items for QVC.com a couple of years ago and also has appeared on QVC as a representative for Fenton products.
"This collection is designed to offer the collector beautiful handpainted art glass pieces which are numbered and very limited in quantity."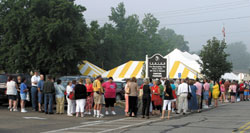 QVC helps celebrate the
Fenton Centennial
QVC broadcast live from the Fenton grounds in Williamstown during our Centennial Celebration in 2005.
The broadcast went out to over 95 million households!
Collectors and enthusiasts didn't want to miss this once-in-a-lifetime opportunity to participate in the live broadcast from the Fenton grounds. Many lined up for hours in anticipation of the broadcast.

QVC today
Many Fenton family members have appeared on QVC. Bill Fenton was the first guest from any QVC vendor to appear on the show back on August 5, 1989. In the late 80s and early 90s, Bill appeared on most of the QVC shows, but his son Don and nephew George also made several appearances. As of today, appearances have been made by Bill, Don, George, Scott, and Nancy Fenton and Shelley Fenton Ash.
For an excellent reference book the history of Fenton Art Glass and QVC, featuring products made exclusively for QVC since 1988, click here.
---