---
Celebrate Father's Day with a Dave Fetty drapery pitcher and tumbler set that will dazzle and delight all who behold it!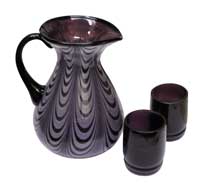 Watching Dave make the offhand artisan pitcher is magical! He prepares a bubble of Aubergine glass, then strings several threads of French Opalescent color glass around the bubble. Dave deftly wields his sharp pick to pull the threads into the desired drapery pattern. Next comes an invigorating warm-up in the glory hole at 2300 degrees. Then he blows the bubble larger inside a vase-shaped mould. From a little blob of molten Aubergine, he gently draws a ring onto the top edge of the vase. He turns down one edge to make a pouring lip. And lastly, he carefully turns and attaches the molten Aubergine handle.
For Dave's part, he signals "finis" by firestamping his mark onto the bottom of the piece and placing it in the annealing oven to cool. Order your set at this great price, before they're all gone!
• To buy the 7 1/2" Dave Fetty Drapery Pitcher and Tumbler Set
• To browse Dave Fetty items available online today
Designed by Robin Spindler for Fenton Art Glass, the violet "Batter Up" bell celebrates America's favorite pastime, and perhaps your dad's number-one sport as well. Measuring 6 1/2 inches tall, and priced at only $55, this summer bell is sure to hit a home run with the athletic-minded dad.
• To buy the 6 1/'" Four Seasons Violet Batter Up Bell
Classic Black with Streamlined Simplicity

An array of fluid, sleek yet stylized floral botanicals adorns silky smooth shapes. Fenton designer Robin Spindler understands the drama of a perfectly presented flower, and she captures it forever in this striking new look, known as "Midnight Garden." Each piece is handpainted in painstaking detail and signed with pride by the artist who completes it. Outfox Dad with a surprise gift from Fenton!
• To buy the 5" Midnight Garden Fox
There's Nothing Like a Hot Cup of Coffee!

Sturdy stainless steel is crafted into a roadworthy travel mug that bears a 100th anniversary Fenton logo. Perfect for everything from hot coffee to hot chocolate...don't let Dad leave home without it!
• To buy the 7" 100th Logo Travel Mug
---
New Fenton Gift Shop Exclusives...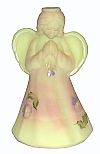 The beautiful blush of Burmese glass has always been a collector's favorite. This lovely angel with a handpainted pansy design has been produced as a gift shop exclusive and is proudly signed by the artist.
• To buy the 6 1/2" Fenton Gift Shop Handpainted Burmese Angel
Entertain in style with this deep rich Aubergine leaf design cakeplate. This warm color was inspired by fashion and then quickly embraced by home decorators.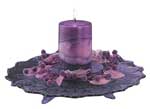 Available only through the Fenton Gift Shop, this new exclusive for 2006 will be a pleasure to give or to own.
• To buy the 12" Fenton Gift Shop Aubergine Cakeplate
• To shop for Fenton Gift Shop Exclusives
---
Upcoming Fenton Art Glass Events

At a Fenton Art Glass Open House/Rep Event, you will truly experience Fenton. Tour the Fenton factory on video, meet and learn more about Fenton glass from a Fenton Sales Representative and enjoy the opportunity to purchase exclusive pieces handcrafted in America and only available at Rep Events.
At a Fenton Family Signing Event, a member of the Fenton family will personally sign your Family Exclusive pieces and all Fenton purchases.

Friday, June 16
• Open House/Rep Event
Conrad Hardware, 11 am - 3 pm
226 W. Shelby Street
Falmouth, KY, 877-862-6723
• Family Signing Event with Mike Fenton
Family Health Pharmacy, 3 pm - 6 pm
Ronan, MT, 406-676-2111
• For a complete list of events
---
A Dazzling History: Fenton Art Glass
By PHIL BERRY
Wonderful West Virginia Magazine

In 1905, 25-year-old Frank L. Fenton decided to try his hand at business. With only $284.86 of seed money, Frank and his older brother John, launched Fenton Art Glass Company in an abandoned glass factory building in Martins Ferry, Ohio. At first, the brothers specialized... More
---

Mark your calendar and plan to join George Fenton for some exciting Fenton moments. Join us Tuesday, July 4, from 1 pm to 3 pm ET. For more information on Fenton and QVC, click here