The Next QVC Show is Tuesday, October 3 • Noon-1pm and 6-8pm
---
Take a Trip to West Chester, PA!
See Fenton Live on QVC!
Meet Fenton Family Members!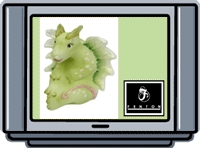 Join us at QVC headquarters in West Chester, Pa., on Tuesday, October 3 for a reception, a live Fenton Art Glass broadcast ... and some surprises! The reception from 4 to 5:30 pm ET precedes the two-hour live show from 6 to 8 pm ET. Several members of the Fenton family will be there to chat and sign your Fenton glass (two item limit, please).
Seating is limited and reservations are required. To make a reservation, please go to www.QVCtours.com or call 1-800-600-9900.
*Please note that guests, QVC Program Hosts, products, shows, dates and times are subject to change without notice. Anyone under the age of 18 attending a studio audience must be accompanied by an adult. All studio audience guests are asked to bring identification. Guests must go through a security search before gaining access to the studio, including a metal detector and bag search. Cameras and recording devices of any kind are not permitted in studio audiences. Reservations are limited to 4 seats unless otherwise specified.
Live Audience Show Postponed
Due to conflicts in the production facilities at QVC, they have decided to postpone the live audience show to a future date. If you have already made reservations, please contact QVC at 1-800-600-9900.
• For more information on Fenton and QVC
---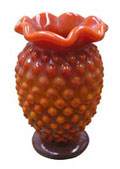 New Sample Room Items this Week...
Mandarin Red Hobnail Vase

Fenton chemists worked for years to recreate our opaque Mandarin Red from the 1920-30s. Here's an early attempt, made 6/28/61. This Hobnail vase stands 3-1/2" tall and has an eight-point crimp.
---
"Trunk Shows"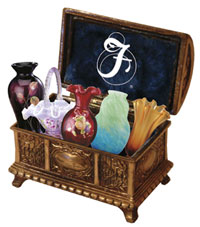 Mark your calendars! Over 100 Trunk Shows are planned for this Fall ! We're adding scheduled events daily.
Stores holding Trunk Shows will offer an expanded selection of Fenton Art Glass for a very limited time. Normally only a week. Enjoy pieces you've never seen, exclusive merchandise and much more when you visit participating stores during this time. Remember, the special selection offered during Trunk Shows won't last long so make sure you stop by during the scheduled times.
In many cases, Fenton Artists from Williamstown, West Virginia will be visiting Trunk Shows. The schedule for Artist Events are posted below. Make sure you check back often to learn about what stores will also include an Artist visit with their Trunk Show.
Please feel free to contact participating stores to learn more about their expanded inventory and the exclusive merchandise planned to be on display during this special time.
AL - AK - AZ - AR - CA - CO - CT - DE - DC - FL - GA - HI - ID
IL - IN - IA - KS - KY - LA - ME - MD - MA - MI - MN - MS - MO - MT
NE - NV - NH - NJ - NM - NY - NC - ND - OH - OK - OR - PA - RI - SC
SD - TN - TX - UT - VT - VA - WA - WV - WI - WY
---
Fenton Gift Shop Hobnail Exclusives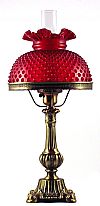 • To shop for Fenton Gift Shop Exclusives
If you like ruby red, you'll love this Fenton lamp! The Hobnail pattern is an American classic, produced by Fenton for more than six decades. Handcrafted of vivid ruby glass by Fenton artisans, this 23-1/2" tall student lamp is the perfect accessory for desk or table. Produced as a Gift Shop Exclusive in the 100 year old Fenton factory each Fenton lamp is mouth blown by a skilled craftsman.
• To buy the 23 1/2" Fenton Gift Shop Ruby Hobnail Student Lamp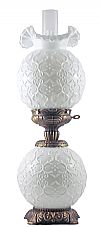 Good gracious, Miss Charlotte, you'll just love this Gone with the Wind lamp! The Spanish Lace pattern dates back to the 1890s, when it was first made in England and America. Handcrafted in milk glass by Fenton artisans, this 23" tall lamp has the added feature of a crystal "crest". This lamp will be the focal point of any room. Produced as a Gift Shop Exclusive.
• To buy the 23" Fenton Gift Shop Gone with the Wind Milk Glass Lamp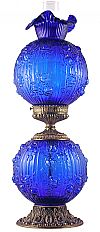 You'll just love this Gone with the Wind lamp! The Embossed Rose pattern is the epitome of elegance. Handcrafted of vivid Cobalt Blue glass by Fenton artisans, this 30" tall lamp will be the focal point of any room in your home. Produced as a Gift Shop Exclusive.
Traditional Cobalt glass brings warm country charm to American homes. This deep blue is a classic glass color from our nation's early history.
• To buy the 30" Fenton Gift Shop Gone with the Wind Cobalt Blue Lamp
---
"Artist Events"
Amy Slack demonstrates Fenton painting techniques.

Mark your calendars! A group of talented Fenton Artists will be traveling the country this fall to demonstrate a variety of Fenton painting techniques.

Customers can also select a Fenton piece from the retailer's shelves and have it handpainted especially for them right before their eyes! Contact a participating retailer for further details.
To see if an artist event is coming to a city near you simply click on the artist's name or search by State Postal Abbreviation below.
Artists participating:
Dianna Barbour - Melissa Caplinger - Heather Cronin - Alice Farley
Cathy Mackey - Truda Mendenhall - Kitty Riley - Amy Slack
Sandy Stephens - Suzi Whitaker
AL - AK - AZ - AR - CA - CO - CT - DE - DC - FL - GA - HI - ID
IL - IN - IA - KS - KY - LA - ME - MD - MA - MI - MN - MS - MO - MT
NE - NV - NH - NJ - NM - NY - NC - ND - OH - OK - OR - PA - RI - SC
SD - TN - TX - UT - VT - VA - WA - WV - WI - WY
---
Everything is discounted in the Fenton Clearance Corner. All first quality items. New items added weekly! shop now

Original price $39.50 now $29.75 This inspiring winged "Faith" cherub in Blue Topaz is perfect to share as a sentimental keepsake with a loved one. Each angel is accented with 22k gold highlights and sparkling ice for added charm and appeal.

• To buy the 5 3/4" Handpainted Blue Topaz Angel - Faith

---

For a closer look at Fenton Glass, visit an authorized Fenton dealer today. To find a dealer near you, click here