The Next QVC Show is Tuesday, October 3
For a closer look at Fenton Glass, visit an authorized Fenton dealer today. To find a dealer near you, Click Here!
---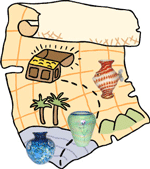 Fenton Treasures await you in a Collector's Paradise...
THE FENTON
SAMPLE ROOM
Fenton collectors regularly talk about a place at Fenton where you can find rare, one-of-a-kind items. From unique Dave Fetty to Cameo to Favrene, our Sample Room is nothing short of a Collector's Paradise.
Most recently, long-time Fenton employee Pam Dick uncovered yet another hidden place loaded with rarities. She quickly had a meeting with Mike, Nancy and Scott Fenton to discuss these special items. After the meeting, Fenton decided to make these museum quality pieces available to you!
Each piece has a different story and we've expanded the description to help you learn all you can about these treasures. Although some pieces were made recently, some were produced by Fenton more than 30 years ago!

New items can be previewed each Wednesday.
Items will be available on Thursdays at Noon ET.
Sometimes the sample room items will be at a set price, but from time to time they will be auctioned on eBay.
New Sample Room Items this Week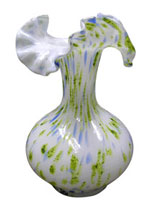 1960s Vasa Murrhina Vase
Opening Bid $150 (eBay)
Auction starts Noon ET, 9-21-06



It's back to the mid-1960s with this exciting Vasa Murrhina 8" tall vase, made with a Milk Glass interior, Aventurine Green frit and Blue frit, and an outer layer of pure crystal. The tri-crimp created by a skilled finisher really sets it off! Bid Now!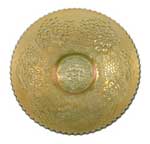 Late 1970s or Early 1980s Aqua Opalescent Carnival Glass Bowl
Opening Bid $175 (eBay)
Auction starts Noon ET, 9-21-06



Wow! This luscious Aqua Opalescent Carnival glass 9-1/2" d. bowl has our Cherry Chain pattern on the interior and Orange Tree pattern on the exterior. This bowl was probably made as a sample in the late 1970s or early 1980s when Fenton was making Aqua Opalescent Carnival items for the Levay Distributing Company. Bid Now!
• To shop for items in our eBay store
• To shop for items from the new Fenton sample room
---
Website Events are Now Interactive!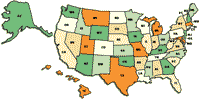 With one click, you can forward events to friends, set email and text message event reminders and more. You can even add the event to your personal calendar! Personal calendars supported include: Yahoo!, MSN, Microsoft Office Outlook, Apple iCal, and Google Calendar.
Each event also includes an interactive MSN map.
To try out our new interactive calendar of events, go to www.fentonartglass.com/events
---
Fenton Gift Shop Dave Fetty Exclusives
• To shop for Fenton Gift Shop Exclusives

Recalling the beauty of a ripe pear, this larger than life pear is a wonderful a Dave Fetty creation. Pears are one of the world's oldest cultivated and beloved fruits. Evident in the works of Renaissance Masters, pears have long been an elegant still-life muse for artists. Now, a rare chance to add a spectacular Dave Fetty off hand Pear to your collection! This vibrant golden-orange 5-1/4" pear is rich with flecks of gold, yellow and brown hues, adorned with a deep green stem and leaf. Each piece is handsigned by Dave Fetty and moulded with his signature back stamp. Only 3 remain!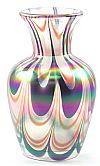 With crystal glass as his canvas, Dave Fetty has created sinuous, asymmetrical pulled feathers in ruby and amethyst glass. This vase stands 6-1/2" tall and bears Dave's special stamp as well as his personal signature.
---
Fenton Artist Events in full swing... artists received a rousing welcome at their respective events!
| | |
| --- | --- |
| Our first group of Artist Events took place last weekend in Iowa, Tennessee, Illinois, Indiana and Wisconsin. Artists Alice Farley, Dianna Barbour and Melissa Caplinger received a rousing welcome at their respective events. Customers reserved a slot of time for the artist to handpaint a decoration designed especially for them on a piece of undecorated Fenton selected from the stores' shelves. At every event our artists were able to complete handpainted designs beyond the number of reservations received, so no one went home disappointed. Undecorated pieces flew off the shelves as large crowds gathered at the participating Fenton retailers. | Melissa Caplinger (above) recalls painting an Aubergine bowl for one lady as her friend grabbed the last bowl from the store's shelf to have a custom design handpainted on her new Aubergine bowl. |
Many more Artist Events are scheduled through mid November. To see if an artist event is coming to a city near you simply click on the artist's name or search by State Postal Abbreviation below.
Artists participating:
Dianna Barbour - Melissa Caplinger - Heather Cronin - Jeanne Cutshaw
Alice Farley - Cathy Mackey - Truda Mendenhall - Kitty Riley
AL - AK - AZ - AR - CA - CO - CT - DE - DC - FL - GA - HI - ID
IL - IN - IA - KS - KY - LA - ME - MD - MA - MI - MN - MS - MO - MT
NE - NV - NH - NJ - NM - NY - NC - ND - OH - OK - OR - PA - RI - SC
SD - TN - TX - UT - VT - VA - WA - WV - WI - WY
---
Mark your calendar! A member of the Fenton family will personally sign your Family Exclusive pieces and all Fenton purchases. Reserve yours today. Check the schedule below for the location of an event near you!

Our Family Signing Event exclusive for fall 2006 is a distinctive "Dogwood" basket made from Iridized Plum Opalescent glass. The rich color sparkles splendidly in this unique piece of art glass. The two handles are created by a special pressing process before being re-shaped by Fenton artisans.

Scott Fenton signs a piece of glass at a signing event.

(File Photo)
To see if an event is coming to a city near you simply click on the Fenton Family Member's name or search by State Postal Abbreviation below.
AL - AK - AZ - AR - CA - CO - CT - DE - DC - FL - GA - HI - ID
IL - IN - IA - KS - KY - LA - ME - MD - MA - MI - MN - MS - MO - MT - NE
NV - NH - NJ - NM - NY - NC - ND - OH - OK - OR - PA - RI - SC - SD
TN - TX - UT - VT - VA - WA - WV - WI - WY
---
Everything is discounted in the Fenton Clearance Corner. All first quality items. New items added weekly! shop now

Only $15... Don't miss your opportunity to add to your collection this cute handpainted gingerbread couple on White Opal Satin ornament. Produced exclusively for the Fenton Gift Shop by the artisans of Fenton Glass.

• To buy the 3-1/2" Fenton Gift Shop Opal Satin Gingerbread Ornament