The Next QVC Show is Thursday, May 10
4-5 am and 4-5 pm ET with Guest Host: George Fenton
---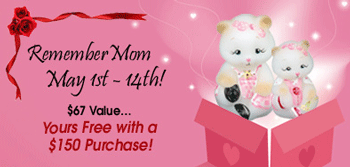 NOW AVAILABLE at your local dealer or online

(fentonartglass.com)

May 1-14, 2007

Shop online at www.fentonartglass.com or visit a participating Fenton dealer* and enjoy a FREE gift with a $150 Fenton purchase or more from May 1-14.

Receive this pair of handpainted Mama Bear and Baby Bear figurines in Opal Satin glass - a $67 value!

Handcrafted in the USA by the skilled artisans at Fenton. Each bear is signed by the artist who handpainted it. Great Mother's Day gift or treat yourself!

To see if a participating dealer is near you, simply click on the State Postal Abbreviation below.

AL - AK - AZ - AR - CA - CO - CT - DE - DC - FL - GA - HI - ID

IL - IN - IA - KS - KY - LA - ME - MD - MA - MI - MN - MS - MO - MT

NE - NV - NH - NJ - NM - NY - NC - ND - OH - OK - OR - PA - RI - SC

SD - TN - TX - UT - VT - VA - WA - WV - WI - WY

*Some restrictions apply, please contact individual store for details. $150 purchase does not include Fenton Art Glass eBay Store items.
---
Carnival Glass collector travels 10,000 miles to visit Fenton Factory in Williamstown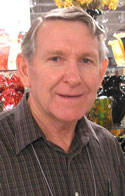 Graham Chave, from Perth, Australia, toured the Fenton Factory this week and shopped for Fenton Carnival Glass. Graham is an avid collector of Carnival Glass and is a member of 4 Carnival Glass Clubs in Australia.
While in the United States to attend the Heart of America Carnival Glass Convention in Kansas City, Mo., Graham made a 2-day stop in West Virginia to visit Fenton Art Glass in Williamstown.
"Being in the U.S., I couldn't miss seeing Fenton," said Graham.
---
Fenton Family Signing Events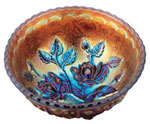 Mark your calendar! A member of the Fenton family will personally sign your Family Exclusive pieces and all Fenton purchases. Reserve yours today.
The Rose Nut Dish is handcrafted with Aubergine glass, and the Marigold iridescence is created by spraying the glass while it is still very hot. The historic mould and plunger used to make the Rose Nut Dish originated at the Imperial Glass Company about 1910, and they were recently acquired by Fenton.
• For more information, click here.
---
Exclusively from QVC.com!
Fenton Art Glass Autumn Gold Purse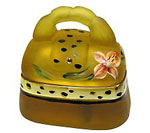 Item Number C111144
QVC Price $44.75
Sweet home decor is in the bag with this Fenton autumn gold glass purse. From a special collection of items chosen by Shelley Fenton, granddaughter of the company's founder, this cute handbag doubles as a chic trinket box. It's handpainted with leopard-style spots and a tiger lily. A topaz Swarovski crystal accents the clasp. Crafted with pride by the skilled glass masters of Fenton. Limited Edition of 250. Individually numbered. Handsigned by the artist who painted it. Includes a keepsake card. Measures 2-3/4" h x 3" l x 2-1/4" w.
• To buy today, go to QVC.com and search for the item number.
---
Fenton Riverboat Dinner Cruise
Kickoff to the Fenton Festival of Glassmaking!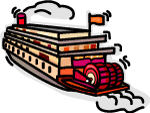 Thursday, August 2, 2007
5:30pm - 8:00pm
Take a ride on the Fenton Riverboat Dinner Cruise! Accompany Fenton family members on a 2 hour boat ride down the beautiful Ohio River aboard the Valley Gem Sternwheeler.
The boat loads at the Williamstown, WV levee at 5:30 for the 6pm to 8pm trip. A buffet dinner will be served.
Only 155 tickets remain for this cruise. Tickets are only $30 plus a small processing fee. MasterCard and Visa accepted.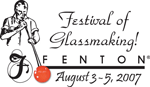 For more information, contact Jena Blair at 1-800-319-7793, ext. 311 or jena@fentongiftshop.com.

---
Just in time for Mother's Day...
Saturday, May 5, 2007, Fenton Gift Shop, Williamstown, WV
We're excited to share our fresh new look, showcasing gift and home dιcor items ... found nowhere else in The Mid-Ohio Valley. Join Gift Shop hosts Pam Dick and Carmen Wynn as they unwrap the new face of Fenton through inspiring demonstrations at 10am, Noon or 2pm!
Learn to personalize your home in any style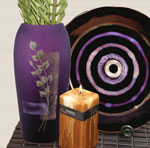 • See candlescaping for all seasons
• Watch easy entertaining ideas for celebrations
• Learn fun "tips and tricks" with food
• See creative gift presentation ideas
• Create "make & take" gift embellishments
See our new line of jewelry and handbags, too.
Refreshments, door prizes ... Bring a friend and enjoy!
• For more information, contact the Fenton Gift Shop 1-800-319-7793, ext. 383 or 327, service@fentongiftshop.com or click here.
---
Fenton Gift Shop Exclusives...
To shop online for Fenton Gift Shop Exclusives, click here

French Opalescent Basket
Inscribed with the signature of Scott Fenton this French Opalescent Basket has been iridized inside for a beautiful stretch look. The Celeste Blue ring and handle are the perfect compliment to Frances Burton's design of handpainted poppies which have been further accented with a butterfly and small flowers.
Blue Burmese Basket

Designed by Stacy Williams, handpainted trailing raspberries are the perfect compliment to this lovely Melon Basket. Fenton's Blue Burmese formula was perfected in the mid-80s and has been a collectors favorite ever since.
---
Everything is discounted in the Fenton Clearance Corner. All first quality items. New items added weekly! shop now

Original price $29.50 now $22.25 Perfect for the young or the young at heart, each baby animal figurine is handpainted with Stacy Williams' all-over floral design inspired by children's pajamas.

Original price $69.00 now $51.75 Reminiscent of childhood days… This French Opalescent Bell with green ring has been handpainted with a whimsical design of boys playing at their favorite swimming hole. Numbered and limited to 150 pcs.