The Next QVC Show is Thursday, May 10
4-5 am and 4-5 pm ET with Guest Host: George Fenton
---
Fenton Mother's Day Events
Visit a participating Fenton dealer to see the beautiful display of Fenton Art Glass and enjoy a FREE gift with your $150 Fenton purchase.*
Receive this pair of handpainted Mama Bear and Baby Bear figurines in Opal Satin glass - a $67 value!
Handcrafted in the USA by the skilled artisans at Fenton. Each bear is signed by the artist who handpainted it. Great Mother's Day gift or treat yourself!
*Some restrictions apply, please contact individual store for details.
To see if an event is coming to a city near you simply click on the State Postal Abbreviation below.
AL - AK - AZ - AR - CA - CO - CT - DE - DC - FL - GA - HI - ID
IL - IN - IA - KS - KY - LA - ME - MD - MA - MI - MN - MS - MO - MT
NE - NV - NH - NJ - NM - NY - NC - ND - OH - OK - OR - PA - RI - SC
SD - TN - TX - UT - VT - VA - WA - WV - WI - WY
---
A Day with Dave Fetty . . .
Sunday, April 22, 2007, 11am to 2pm
Collectables Unlimited, Lewisburg, PA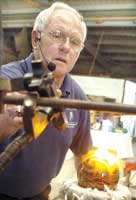 Collectables Unlimited, a Fenton Gold Showcase Dealer will be celebrating their 10th Anniversary and the Opening of their new Art Glass Gallery. To celebrate this special occasion, Fenton Artist Dave Fetty will be on hand to give a special presentation on off-hand glass. In addition to speaking, he will show a video and display a set of glass progressives to show the off-hand process from start to finish.
Collectables Unlimited will have 30 new and never seen before first quality selections of Dave's plus their own inventory of Fetty off-hand pieces for sale. Customers will receive a free gift with purchase and each piece will be signed by Dave. Customers will also receive an autographed picture of Dave with each purchase. A silent auction will held and there will be a light lunch and cake served.
For more information, contact Jim Hill at Collectables Unlimited, 130 Buffalo Road, Lewisburg, PA, 1-877-704-9394.
---
The "Happy Daffy" Walking Shoe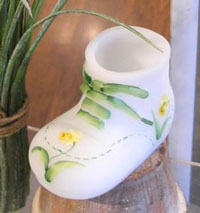 Show your support and help us raise money by purchasing the Fenton "Happy Daffy" Walking Shoe. Each shoe starts with White Opal Satin glass, then is decorated in rich yellow daffodils.
Inspired by the American Cancer Society Daffodil Days held each spring, this beautiful design was created by Fenton Art Glass decorator Christy Riggs in 2006.
Each piece is limited to only 200 pieces and is handpainted and signed by the artist. Measures 4" l. x 2-1/4" h. The bottom of the piece has a special Fenton Relay for Life decal imprinted.
50% of every sale goes to the American Cancer Society.

Employees of Fenton Art Glass participate each year in the American Cancer Society Relay for Life in Williamstown, WV in August.
Relay for Life is an exciting community gathering where everyone can participate in the fight against cancer. In over 4,200 communities across the country teams of people camp out at local high schools, parks or fairgrounds to take turns walking or running around a track or path. Each team is asked to raise funds and to have a representative on the track at all times during this overnight event – because cancer never sleeps.
For more information: about Relay for Life or the Fenton Art Glass Relay for Life Team, contact Connie Mayle, 304-375-6122 ext. 214 or cmayle@fentonartglass.com.
• To buy the 4" Happy Daffy Walking Shoe
---
Exclusively from QVC.com!

Fenton Art Glass French Opalescent Stained Glass Vase
Item Number C1716
QVC Price $121.50
Add some sweet sophistication to your home with this round vase from Fenton. Handcrafted of core-struck, French opalescent glass, it's decorated with a stained glass pattern that's created by handpainting soft colors over a black decal. Crafted with pride by the skilled glass masters of Fenton. Measures 7-1/2" h. Handsigned by the artist who painted it.
• To buy today, go to QVC.com and search for the item number.
---
Fenton Gift Shop "Mini" Exclusives...
To shop online for Fenton Gift Shop Exclusives, click here
---
Everything is discounted in the Fenton Clearance Corner. All first quality items. New items added weekly! shop now

Original price $23.00 now $14.75 Appealing to the eye, pleasing to the ear, delightful to decorate with and enjoy - that's the beauty of bells. Handcrafted with care by the artisans of Fenton.