Fenton Art Glass Forges Ahead With "Feathers" Vase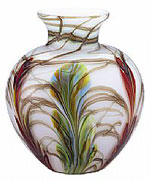 Master glass artisan Dave Fetty unveils his latest innovation for Fenton Art Glass's Spring 2007 collection. His "Feathers" vase has a graceful look that befits its name.
Using pure white Milk Glass, Fetty has developed an entirely new technique to "feather" rich glass color combinations into the surface. No two Feather vases will be exactly alike, and that's the essence of handmade glass created by artisan Dave Fetty. Those of us at Fenton art Glass call it "Feathers," and we think it will really tickle Dave's many fans!
• To buy the 7" Dave Fetty Feathers Vase
• To shop for all Dave Fetty items available online
---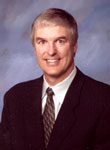 Mark Your Calendar for the Next QVC Show!
Mark your calendar and plan to join George Fenton for some exciting Fenton moments. One day, two shows, what fun! Treat yourself to that special piece!
Wednesday, February 14
3:00 am to 4:00 am ET
10:00 pm to Midnight ET
To shop for Fenton items made especially for QVC, click here
---
Fenton News...
Festive Fenton Summer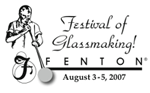 Join us this summer for our Festival of Glassmaking August 3 - 5, 2007, as Fenton celebrates its 100th year of production in Williamstown, WV. Festivities include glassmaking demonstrations, custom decorating by Fenton artists, glassmaking school, special factory tours, family signing events, Fenton bingo and more!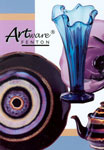 Fenton Launches New Artware Division
Fenton Art Glass will extend its product offerings with new lines of traditional and contemporary designs in glass and non-glass. The new Fenton "Artware" division will include products from around the world as well as handmade, colored art glass made in the USA by Fenton. Read More
Fenton Teams Up With West Virginia Artists Kelsey Murphy and Robert Bomkamp To Produce Limited Edition Pieces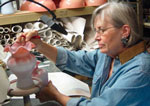 Kelsey and Robert specialize in glass cameo carving, an exacting art that demands both skill in design and great dexterity in execution. In recent months, they have teamed with Fenton Art Glass to design and produce some remarkable limited edition pieces. Kelsey's "Dragonflies on Ebony Favrene" was part of Fenton's limited edition Horizons group in 2006, and her "Gauley River Sunrise" Vase (limited to 375) on Fenton's Burmese glass was an instant hit with Fenton collectors when it debuted in late 2006. Read More
---
Fenton Gift Shop Exclusives...
---
Everything is discounted in the Fenton Clearance Corner. All first quality items. New items added weekly! shop now

Original price $95.00 now $71.25 Fenton produced Stretch glass from 1917 through the 1920s in the glamorous and elegant art deco style, and these pieces are treasured today as timeless classics. The intense glow of Fenton's furnaces is captured forever in the iridescence and luster all inherent in the magic of Ruby Amberina Stretch glass.

New! 2007 Catalog
---
Natural Animals
By popular demand, we've received a Fenton concept from the past and taken it one step further. Each Natural Animal figurine is meticulously handpainted by a Fenton artist and has the added attraction of a Swarovski gemstone. So, they're all dressed up and ready to go!

• 05363EI
3-3/4" Songbird

• 05274C6
2-1/2" Frog

• 05136FH
3-1/2" Elephant

• 05074AZ
4" Grooming Cat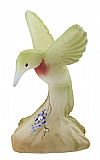 • 05066PU
4-1/2" Hummingbird
---
Fenton Sample Room Returns

Fenton collectors regularly talk about a place at Fenton where you can find rare items. From unique Dave Fetty to Cameo to Favrene, our Sample Room is nothing short of a Collector's Paradise. New items can be previewed each Wednesday and are available for Auction or "Buy it Now" on Thursdays. To Visit the Fenton Sample Room

For questions or comments, please do not reply to this email. Instead, email: askfenton@fentonartglass.com. This email has been sent to you because you have agreed to receive offers and information from the Fenton Art Glass Company. We respect your privacy and do not sell your personal information. For details, please review our privacy policy.

How to unsubscribe: We support responsible and ethical email marketing practices. Please know that we respect your right to be purged from our email distribution list. If you prefer not to receive offers or information from Fenton Art Glass, please use this page.
We encourage and support best practices in responsible email marketing.
If you use a Challenge-Response system for email, please make certain that you can receive our email by adding askfentononline@fentonartglass.com to your Allow List. For specific instructions for major ISPs, click here.
The sender of this email is the Fenton Art Glass Co., 700 Elizabeth St., Williamstown, WV, 26187.