Fenton Art Glass Company... handcrafted in America for a century, presents...
An invitation to a
Stargazer Butterfly on French Opalescent Wedding
---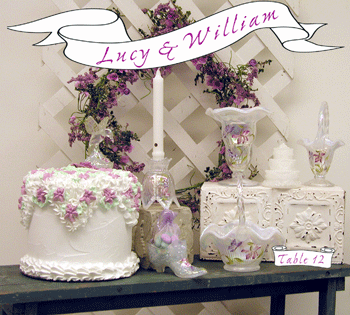 Its wedding season - a handcrafted piece of Fenton is a thoughtful wedding gift. What a wonderful way to start a new life together and begin a Fenton collecting tradition! Celebrate with a Fenton moment to commemorate all the important milestones in life.

Enjoy entertaining with Fenton. A Fenton slipper filled with candy is the perfect shower gift or wedding favor! Don't keep your collection in the curio cabinet, use it and enjoy it everyday or just for special occasions…share your Fenton with friends and family.

To see more of the Stargazer Butterfly on French Opalescent glass available from Fenton…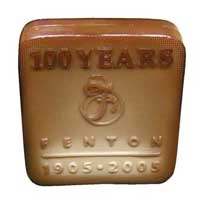 Fenton Chocolate Glass Logo on eBay Wednesday, June 15!

Chocolate glass is a collector favorite, specially reissued to celebrate our 100th anniversary. Rich Chocolate glass ranges in color from a deep mocha to a milky cocoa shade and no two pieces are alike. The 3 1/4" square Fenton Logo is crafted in heat-sensitive Chocolate glass rich with swirls of color throughout each piece. The Fenton Chocolate glass Logo is individually numbered, limited to just 300 pieces, and created especially for eBay.

Pieces numbered 1 through 5 are available on auction this week then the eBay community will have the opportunity to purchase pieces numbered 6 through 300 with the eBay "Buy It Now" option. To bid starting Wednesday, June 15, click here.

For all of your Fenton needs shop online with an authorized Fenton dealer today, or click here to find a dealer near you.