Annual Big Top Savings . . .
A Fun Summertime Hit with Everyone!
Six highly anticipated
weeks of Fenton savings
June 23 through August 6!
---
"Fantastic!" ... "I come every year!" ... "Wonderful - Well Organized" ... "Love the Variety!" ... "We came late this year but found plenty!" ... "Love it! Keeps getting better each year! Thanks!" ... "Excellent - well worth the 9 1/2 hour drive." ... "Waited all year!"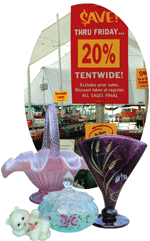 Just a few of the comments made by hundreds of tent sale shoppers over the past few years.
Make plans now to attend Fenton's Annual Tent Event. Itıs a once-a-year opportunity to shop under the Big Top for a wide variety of handcrafted Fenton at prices that just keep getting better!
During the six-week event enjoy substantial savings on retired first-quality Fenton, QVC items, a variety of lamps, and a wonderful assortment of preferred seconds including beautifully handpainted items designed just for this event! In addition to great selection, you'll find progressive savings beginning July 1st with an additional 10%...15%...20%...30% and 40% off with each passing week!
Progressive discounts begin on Saturday, July 1
Save an additional 10% on everything under the tent!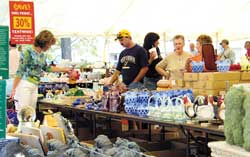 15% starting July 8...
20% starting July 15...
30% starting July 22...
40% off July 29 through August 6!
Open Monday - Friday:
8am - 8pm
Saturday: 8am - 5pm
Sunday: noon - 5pm
---
Our shelves are stocked with the finest Fenton Glass...
from the hard-to-find limited edition to the perfect gift. shop now
---

Everything is discounted in the new Clearance Corner. shop now
---
How can we help you?
Send your e-mail to our Customer Service
Department or
call us at
(304) 375-7772 or
1-800-319-7793
Fenton Gift Shop
420 Caroline Avenue
Williamstown, WV 26187
Special Fenton Museum Exhibit
June 10 - Sept. 17, 2006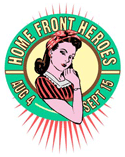 As part of the Smithsonian Institution's WWII Exhibit. "Home Front Heroes," which will be at the Parkersburg Arts Center from August 4 through Sept 15, 2006.
The Fenton Museum in Williamstown, will feature a special exhibit, "Fenton Glass During WWII," on display from June 10 through September 17, 2006.
On Saturday August 5 at 11am, Fenton Historian, James Measell will give a talk on Fenton glassmaking during WWII.
Museum and theater are open during gift shop hours and admission is free.
For more information, contact the Fenton Museum at museum@fentongiftshop.com