Need a shield from the warm sun? Try a Spring Finery Hat complete with decorated hat band and bow.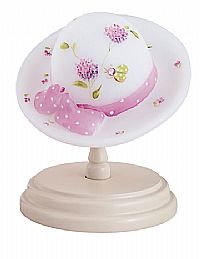 Sanded opal glass, Swarovski crystals, and a pastel floral design combine in Stacy Williams' new Spring Finery collection.
A new standing Bunny Box from sculptor Suzi Whitaker leads the way, and we also have two traditional reclining bunny covered boxes in this group. If that's not enough bunnies for you, check out the lop-eared fellow below left!
A spectacular collection for spring decorating, see more selections to the left. Buy the Hat Now
---
Buy it Now Auction on eBay Buy Today!
Fenton's Frolicking, Rollicking Chocolate Spaniels!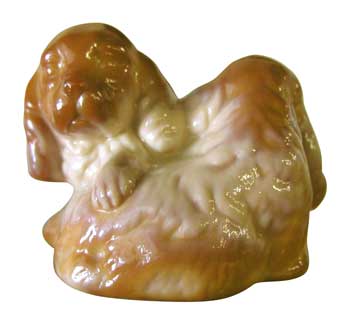 Designed by Fenton's Tony Rosena in 1983, our "Spaniels" figurine captures a great moment. Everyone smiles at the sight of two frolicking, rollicking Spaniels having a roll-around!
Historic Chocolate glass, perfected by Jacob Rosenthal and first made by Fenton 99 years ago, is the perfect color for these two playful dogs! They're buddies for life!
Fenton's Frolicking, Rollicking Chocolate Spaniels figurine is limited to just 300 pieces, created especially for eBay, and each piece is individually numbered. Each piece is 2 1/2" high and 3 1/4" wide.

Fenton partnered with eBay to provide both auction and "Buy It Now" opportunities for the eBay community.
Beginning today at Noon ET, the eBay community will have the opportunity to purchase pieces numbered 6 through 300 with the eBay "Buy it Now" option.
---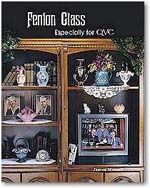 For your winter reading...special sale prices for Fenton Glass: Especially for QVC!!
Published in October 2002, Fenton Glass: Especially for QVC contains the most comprehensive coverage of the glassware made by Fenton Art Glass for electronic retailer QVC. Written by Fenton historian James Measell, this 176-page book is filled with great stories about Fenton products and the QVC personalities involved. The color photos and captions describe more than 1100 pieces in great detail!
Special sale prices are available for a limited time only.
Order the hardbound FG948 for $33.25 (original price $49.95) or the softbound FG947 $24.50 (original price $36.95).