Fenton Art Glass, handcrafted in America for 100 years, salutes America...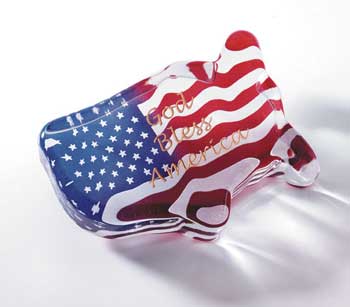 Celebrate, commemorate and
recognize that special date!
---
Fenton Art Glass is known for color and distinctive style and we offer a wide variety of beautiful customized gifts, incentives, awards and collectibles at nearly every price point!
Wave the red, white and blue along with your organization's logo, creating a unique personalized gift, commemorative item, fundraiser piece or customized awards for your organization.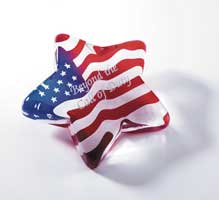 The American Flag is recreated on crystal art glass embellished by the painting and carving of the stars and stripes. The result is an exquisite artistic gift. Adding your sand carved logo to the surface creates a customized keepsake that will be displayed with pride.

To review the exciting array of Special Order options available...

For more information regarding these Patriotic paperweights and other Fenton Art Glass Paperweights, click here.