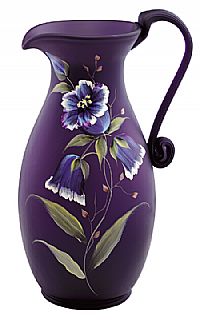 Since its inception in 1993, the Family Signature Series has been a favorite with Fenton collectors.
As always, these pieces showcase many of the remarkable skills of our glassworkers and decorators. The color treatments and handpainted decorations surely underscore the "art" in Fenton Art Glass! Each piece is individually numbered and limited to sales through June 15, 2006 or the stated limit for the piece.
• To buy items from the Family Signature Series
• To buy the 11" Moonstruck Bluebells Aubergine Satin Pitcher (inscribed with the signatures of nine Fenton Family members)
---
"Collectors, dealers and all who appreciate the beauty of decorative art glass will enjoy The Glass Messenger."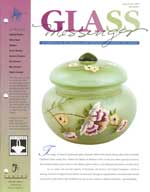 A great way to keep up with the latest Fenton Art Glass events and introductions is by subscribing to the Glass Messenger. Subscribers receive a number of great materials including the "free" binder to hold each information packed issue.

• Click here to learn more!
• To subscribe to the Glass Messenger (4 issues includes FREE binder with initial order)
• To purchase past issues of the Glass Messenger
---
Those who enjoy the Fenton quarterly Glass Messenger will fall in love with this year's Subscriber Exclusives!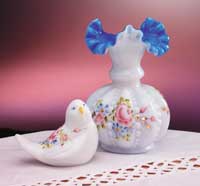 Designer Frances Burton's new Charleton Garden motif on a Beaded Melon Vase and companion Songbird recalls a popular decorating style from the 1940s, replete with 22k gold accents and lavish florals. The mould for the Beaded Melon vase dates to the 1940s, and the Songbird is one of sculptor Suzi Whitaker's newest creations. Each Glass Messenger Subscriber Exclusive is individually numbered and inscribed with the signature of a Fenton family member and the artist who completes it.
---
it's the Fetty Favrene Egg Sale!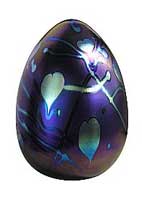 The striking beauty of Favrene is highlighted with Dave Fetty's "Hanging Hearts" motif, carefully handworked into this 4 1/2" egg with the eye of an artist and master craftsman. This is a spectacular work of museum-quality art, perfect to give or to own. Each piece bears the Dave Fetty back stamp. Was $205. Now only $110.
• To buy the Dave Fetty 4 1/2" Favrene Egg
• To shop for Dave Fetty exclusives
---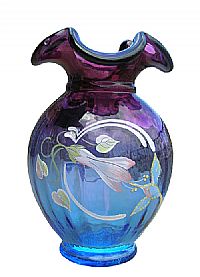 Fenton Gift Shop Exclusives by Susan Bryan
Our "Spring Melody" 6" Vase was designed and handpainted by Gift Shop Featured Artist Susan Bryan. Produced in rich Mulberry glass and handpainted with gold accents and a delicate hummingbird that sweetly flutters, seeking the nectar of a morning glory. This Featured Artist Gift Shop exclusive vase for April 2006 is numbered and strictly limited to only 100 pieces!
---
This lovely Fan Vase in Fenton's highly collectible Burmese glass bears a delicate handpainted floral design entitled "Spring Blossom," which was created and handpainted by Gift Shop Featured Artist Susan Bryan. This Gift Shop Exclusive is numbered and strictly limited to only 100 pieces.

• To buy the 6" Handpainted "Spring Melody" Mulberry Vase
• To buy the 8" Handpainted "Spring Blossom" Burmese Fan Vase