Fenton Art Glass, handcrafted in America for 100 years, introduces...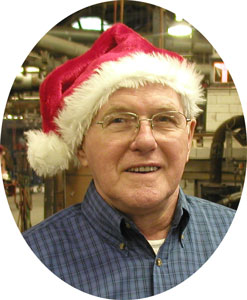 Santa Fetty,
put a "Hanging Hearts Vase"
under the tree, for me...
---
Skilled glassworker Dave Fetty retired from Fenton in 1999 after more than 40 years in the glass industry. Even after his "official" retirement, Dave has continued to contribute to Fenton.
In addition to working closely with Fenton glassworkers even today, Dave also contributes pieces for the Collectors Room at the Fenton Collectors Convention held each year.

A signature Dave Fetty "look" is the "Hanging Hearts" motif, shown here in Green and Black. To own this spectacular 5 1/2" Vase, click here. Each piece bears the Dave Fetty back stamp.
To learn more about Dave Fetty, click here
To see all of the Dave Fetty exclusives now available, click here
For all of your Fenton needs shop online with an authorized Fenton dealer today, or click here to find a dealer near you.