Mother's Day is Sunday, May 14
---
hours of Fenton on QVC!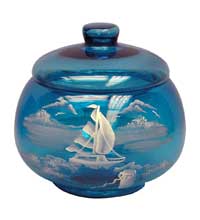 Mark your calendar and plan to join George Fenton for some exciting Fenton moments. One day, two shows, what fun! Treat yourself to that special piece!
Saturday, May 13
7:00 am to 8:00 am ET and
1:00 pm to 3:00 pm ET

• For a PREVIEW of the SHOW and selected pieces
Remember, you can shop for Fenton exclusives on QVC ANYTIME by visiting www.qvc.com.
---
Batter Up! Fenton introduces the Mary Gregory Four Seasons Bells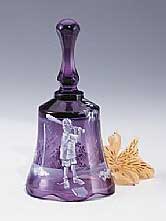 Fenton celebrates nature's rhythms and the changes brought by the seasons with four delightful bells. Our design team of Kim Barley, Frances Burton, Robin Spindler and Stacy Williams chose to continue with some of their favorite "children" in this wonderful group. The vivid glass complements to our team's Mary Gregory-style decorations...sure to please one and all! This piece was designed by Robin Spindler.
The art of painting in the Mary Gregory style with its unique shading and raised opaque details tests the talents of the most accomplished decorators and is a tribute to the skills of Fenton artisans.

• To buy the 6 1/2" Four Seasons Batter Up! Violet Bell
• To buy the 6 1/2" Four Seasons Kitty Ride Emerald Bell
• To buy the 6 1/2" Four Seasons Trick or Treat Ruby Bell
• To buy the 6 1/2" Four Seasons Bubba's Walk Cobalt Bell
---
The Fenton Gift Shop is "Pretty in Pink" with these Rosalene Exclusives

Rosalene glows with a beauty and intensity that can only come from the addition of pure gold to the formula. This Rosalene Pitcher, produced as a Gift Shop Exclusive, features a diamond optic pattern which acts as a "lattice" to frame the beautiful grape design. Handpainted and proudly signed the by artist Carol Griffiths.

• To buy the 5 1/2" Fenton Gift Shop Handpainted Diamond Optic Rosalene Pitcher
---

Our cuddly sleeping Kitten in Rosalene has been handpainted in a adorable heart and flower motif and accented with a ribbon around the neck. A perfect way to introduce a young collector to the wonders of Fenton Glass.

• To buy the 3 1/2" Handpainted Rosalene Sleeping Kitten
• To shop for Gift Shop Exclusives
---
The Fenton family tradition continues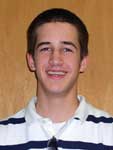 We are pleased to announce that another Fenton family member is joining the Fenton Art Glass Company for the upcoming summer. Craig Fenton, son of the late Don Fenton, is joining the Fenton sales team as summer intern to learn the ropes in the areas of sales, customer service and the internet. He's eager to learn all he can about our business operation, so we plan to keep him very busy for the next few months. Craig possesses many of his father's wonderful characteristics - his warmth, charm, sensitivity and sense of humor clearly shines through. Craig will soon be graduating from Williamstown High School and plans to attend Elon University in North Carolina this fall majoring in Business.
• To view the Fenton Family Tree
---

A great way to keep up with the latest Fenton Art Glass events and introductions is by subscribing to the Glass Messenger. Subscribers receive a number of great materials including the "free" binder to hold each information packed issue. Click here to learn more!