Enjoy FOUR FABULOUS hours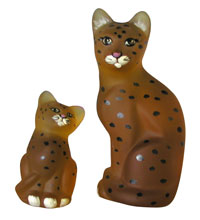 of Fenton on QVC!
Mark your calendar and plan to join Shelley Fenton for some exciting Fenton moments. One day, three shows, what fun! Treat yourself to that special piece!
Wednesday, April 5
5:00 am to 6:00 am ET
11:00 am to 1:00 pm ET
7:00 pm to 8:00 pm ET

• For a PREVIEW of the SHOW and selected pieces
Remember, you can shop for Fenton exclusives on QVC ANYTIME by visiting www.qvc.com.
---
The Crayons Vase by Dave Fetty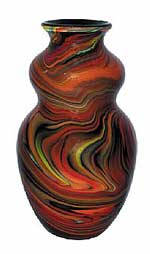 Master glass artisan Dave Fetty has done it again, creating a fun, funky and fantastic vase for our 2006 Connoisseur Collection!
This beautiful vase features swirls of opaque "crayon" colors, and its organic shape is decidedly contemporary. The Crayons Vase begins with a gather of our Aubergine glass on a blowpipe. Seven different colors of frit are needed, including brown, orange, yellow, two shades of green and two different reds! These colors combine to create one truly magnificent piece! An outer layer of pure crystal is the final touch.
Crayons is simply glass craftsmanship at its finest. Collectors will love Crayons. That's no secret!
• To buy the 10 1/2'' Dave Fetty Crayons Vase
---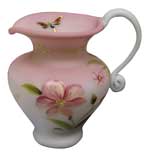 Let me count the ways!
• 2005 Platinum Collection (Fenton's 100th Anniversary)
• Blue Burmese glass, made with pure gold
• French curl handle
• Decoration and 22k gold accents designed by Kim Barley

• Dragonfly with colored jewel stones
• Limited to 1000 individually numbered pieces
• Signed by the artist
• To buy the 6 1/2" - Dragonfly Blue Burmese Pitcher
---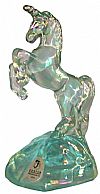 The Aquamarine Iridized Unicorn is made from a rare mold and is a new gift shop exclusive for 2006. Each unicorn stands 5-1/2" high and bears the FGS 2006 Exclusive Logo on the bottom. Don't miss your chance to add this to your collection, production is strictly limited to 2006.
• To buy the 5 1/2" - Gift Shop Exclusive Aquamarine Unicorn