Fenton Art Glass, handcrafted in America for 100 years, invites you to...

Enjoy THREE FABULOUS
hours of FENTON!
---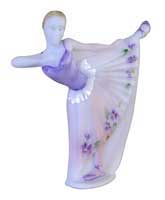 Mark your calendar and plan to join George Fenton for some exciting Fenton moments. Celebrate 100 years of Fenton Art Glass and treat yourself to that special piece!
One day, two shows, what fun!
Monday, February 6th - QVC Collector's Day
11:00am to Noon ET - Limited Edition Show
and 10:00pm to Midnight ET
For a PREVIEW of the SHOW and selected pieces…
---
The February 6 Fenton QVC show is jam-packed with new and interesting items, including many limited editions. Here are some highlights: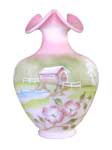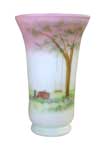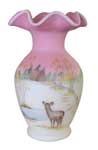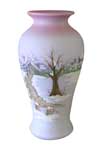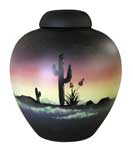 A new grouping called "Four Seasons" vases is to be offered as a matched numbered set. On the February 6 show only, a maximum of 1000 matched numbered sets will be available (each vase is limited to 1500 but those beyond 1000 will not be in matched numbered sets). All four vases are blown, and all are made of Fenton glass formulas which contain gold: Burmese, Lotus Mist Burmese, Blue Burmese and Rosalene. As the title "Four Seasons" suggests, each vase has a decoration featuring one of the seasons--Winter (Blue Burmese with Tom Fenton signature), Spring (Rosalene with George Fenton signature), Summer (Lotus Mist Burmese with Nancy Fenton signature), or Fall (Burmese with Shelley Fenton signature).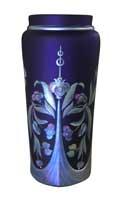 The "American Gallery" collection makes its debut. The focus of this collection for 2006 is scenic decorations that depict distinctive areas in the United States. The Southwest is our first stop, and this piece is a ginger jar with George Fenton's signature and a beautiful handpainted desert scene designed by Stacy Williams. Is it sunrise or sunset? You decide!
A spectacular Favrene vase combines the beauty of Favrene with intricate sandcarving and handpainting designed by Frances Burton. This 8 1/2" vase, which is limited to only 350 pieces, is made with a mould that originated at the Cambridge Glass Co. in the 1920s, when it was used to make a cocktail shaker! Favrene contains pure silver, and reheating in a controlled atmosphere brings out the vivid iridescence. George Fenton says this is the prettiest favrene piece we have ever done and it will definitely be in his collection.
---
Remember, you can shop for Fenton exclusives on QVC ANYTIME by visiting www.qvc.com