What better place for life's little treasures than a stylish handbag?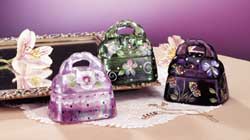 Our new Designer Purses are perfect for whatever memories you need to tuck away!
Each Designer Purse is offered in a strictly limited edition of 2500 pieces, bears a "designed by" logo with the signature of the designer and the signature of the artist who completes it.
Sculptor Suzi Whitaker designed the moulds used to make these splendid additions to the Fenton line, and our quintet of "designing women" (Kim Barley, Frances Burton, CC Hardman, Robin Spindler and Stacy Williams) have created handpainted motifs to grace each selection.
For more information, click on purses above or below.
---
"Mom's A Treasure" Celebration
May 5 - 6, 2006
In anticipation of Mother's Day 2006, participating Fenton dealers across the country will be hosting a variety of events on May 5-6.
At these dealer locations, you can enter a special contest to win various prizes and even a $400 Fenton spree by telling us why your Mom's a treasure! If your Mom enjoys Fenton glass, there could be a real treat in store for her.
We created a Burmese Purse treasure box, graced with a floral motif designed by Stacy Williams and a special message ("You¹re a Treasure") inside. This Burmese Purse will be available ONLY at stores hosting the special Fenton events. This Burmese Purse covered box features a handpainted floral motif designed by Stacy Williams. Perfect for storing life's little treasures... and a perfect for Mom!
3" Burmese Purse, inscribed

with the signatures of Nancy Fenton, Shelley Fenton, and Lynn Fenton ($58.50 U.S.)
Click here for more information.
---
What is a Fenton Showcase Dealer?



Fenton Showcase Dealers are dedicated retailers who carry a large selection of Fenton Art Glass, are knowledgeable resources on Fenton and have developed a loyal following of consumers who depend on them for Fenton products. Fenton Showcase Dealers sponsor special events throughout the year, including Fenton Family Signing Events and Rep Events. Many sponsor bus trips to the Fenton Factory in West Virginia.
Current Fenton items are sold through gift and collectible retailers across the country. Retailers carry different portions of the Fenton line, so expect to see quite a range of presentations. Fenton retailers work closely with their collectors, placing special orders for items not in current stock.
Click here to find a dealer near you.