Escape to your place of hidden desire with the Fenton Paradise Collection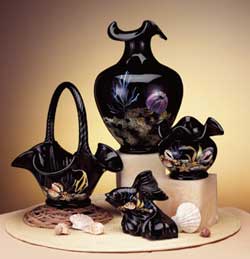 Robin Spindler's love of travel inspired this scenic collection. Each element is painstakingly handpainted with delicate shading so lifelike...they beg to be touched! The lush tropical flower and foliage carry us into Robin's world of exotic beauty.
• To buy items from the 2006 Paradise Collection
---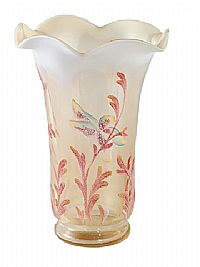 Silken Sand Coral Vase and Seahorse
Our new Silken Sand is a neutral color destined for home dιcor. The handblown vase is handpainted in a Coral pattern designed by Frances Burton which has been accented with ground glass for texture and sparkle. Each is numbered and inscribed with the signature of Christine Fenton.
• To buy the 7 1/2" - Coral Pattern Silken Sand Vase
• To buy the 4" - Silken Sand Seahorse
---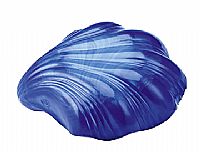 A vivid opaque blue that works well in American Country or French Country dιcor, Periwinkle Blue is an original Fenton color developed by Paul Rosenthal during the 1930s. The heat-sensitive glass ranges from light to dark blue to create beautiful gradations of color - a true art glass treatment.
• To buy the 5 1/2" w. - Periwinkle Blue Shell Dish
---
Heed the Call of the Wild!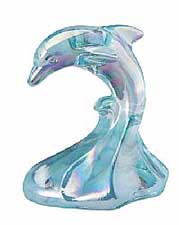 Land, air and sea are represented in the Nature Company assortment, featuring Jon Saffell's Dolphin moulds. A perfect way to introduce a young collector to the wonders of Fenton Glass.
• To buy the 4" - Aquamarine Iridized Dolphin
• To buy the 4" - Violet Iridized Dolphin\
---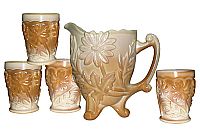 No Chocolate collection is complete without our "Limited Edition" Founder's Water Set. This Gift Shop 2005 Centennial Exclusive was strictly limited and individually numbered to 500 sets. The 7-1/2" pitcher bears the stamp "F.L. Fenton - Founder 1905" as well as the signatures of his son, Frank M. Fenton, and his grandson, George Fenton. Four 4" tumblers are included. This water set is sure to be sought after for many years to come.
• To buy the Limited Edition Founder's Chocolate Water Set