Our classic Burmese glass captures the beauty of a magnificent seashell in this tribute to Frank M. Fenton.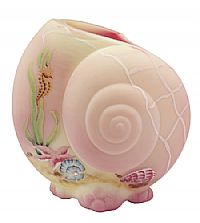 The spectacular Nautilus Vase in Burmese glass is our memorial tribute to Frank M. Fenton. His enthusiasm for art glass fueled chemist Charlie Goe's re-creation of the historic Burmese color, and his vision led us to purchase this original Cambridge mould in the mid-1980s from Imperial Glass. Frank also enjoyed seashell decorative motifs, and Stacy Williams has re-interpreted a motif created two decades ago when Frank encouraged Dianna Barbour to design a seashell theme on Burmese glass.
For more information, click here.
---
Fenton fanatics are aflutter over the one-of-a-kind Fenton Floral Cameo Vase to be auctioned on eBay to benefit the ALS Association!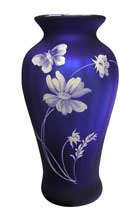 Bidding starts today at Noon ET
Handcrafted with iridized cobalt blue glass and satin-finished on the exterior, this 9-1/2" vase has been beautifully handpainted by Fenton designer Stacy Williams. Her signature and the 2006 date are on the underside of the vase. Stacy's handpainted design is done in pure white enamel, and the meticulous floral motif and butterfly have the look of nineteenth-century English cameo glass.
The 7-day auction begins today at Noon Eastern Time. When bidding starts, click here.

The Fenton family chose this unique piece to auction exclusively on eBay, with the proceeds to benefit the ALSA. The ALS Association is the only national non-profit voluntary health organization dedicated solely to the fight against ALS. Often referred to as Lou Gehrig's disease, amyotrophic lateral sclerosis (ALS) is a progressive neurodegenerative disease that attacks nerve cells and pathways in the brain and spinal cord. There is no known cure for ALS.



The Fenton Foundation of the Fenton Art Glass Company has been providing philanthropic support for over 50 years. In 2004, the Fenton Foundation selected the ALS Association as its national partner. The ALS Association was chosen because of the Fenton family's direct experiences with this terrible disease, and to date, Fenton has donated over $25,000.00 to the ALSA through the sale of selected pieces. The Fenton family will continue to work in partnership with ALSA to make advances in the fight against Lou Gehrig's disease. For more information about ALS and The ALS Association, visit www.alsa.org or call 1-800-782-4747.
---
Fenton Supports the ALS Association with the 9" Daisy Blue on Silken Sand Vase

ALS (Lou Gehrig's disease) has impacted the lives of loved ones in the extended Fenton family. Amyotrophic lateral sclerosis (ALS) is a progressive neuro-degenerative disease that attacks nerve cells and pathways in the brain and spinal cord. The ALS Association funds research into the causes of and treatments for ALS; a portion of the proceeds from the sale of each "Daisy Blue" on Silken Sand Vase will be donated to the ALSA. Each vase bears the signatures of nine family members and the ALSA logo.
Click here to order yours today.
---
Fenton Retired Collection Now Available Online! Browse and Buy from Past Fenton Catalogs. Click here to browse past catalogs.
What does "retired" mean?
When a Fenton item is "retired," that particular item (a unique combination of mould, glass color/treatment, shape, and, if applicable, decoration) will not be made again. We might use the mould to make a different color or we might use different moulds with the same color or decoration. Fenton Art Glass supplies its dealers with updated listings of "retired" items as well as special stickers to put on these pieces when they are offered for sale.