Fenton Art Glass Company...Handcrafted in America for 100 years, looks back...
Fenton Centennial Celebration Memories
---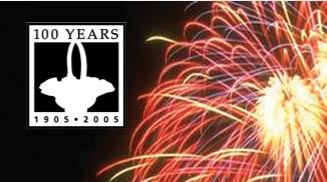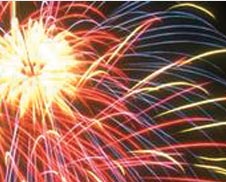 As 2005 draws to a close, we pause to reflect on a most memorable year. We celebrated our centennial with events nationwide and at our factory in Williamstown, West Virginia. Fenton glass was front and center at several major museums, and many Fenton dealers sponsored special occasions, ranging from birthday parties around May 4 to Family Signing Events in spring or fall. From July 29 to August 2, we welcomed thousands of Fenton fans to our factory, gift shop, museum, and many special events under the "big tops" outdoors.
For all of you who joined us at Fenton in Williamstown, WV for our five day celebration, thanks so very much. We couldn't have done it without you! From the personalized Fenton family tours of the factory to the incredible live QVC broadcast, the edge of your seat moments at the dramatic Fenton auction to the magical moments spent decorating ornaments and just swapping experiences with family and friends both old and new, a great time was had by all.
If you didn't visit in 2005, make your plans now to visit the Fenton Factory in 2006. The Fenton Factory Tour remains one of the TOP 10 tours in America, as rated in USA Today. In addition we have been named Rand McNally Best of the Road for 2006. Watch raw materials become molten glass which is shaped by artisans in the age-old tradition. Furnaces glow; sparks fly, and from heat, noise and motion emerge works of art that captivate and delight.
Our enthusiasm is carrying over into 2006, and we have created exciting new products and plans for next year. During 2006, this email newsletter will continue to keep you up to date about "everything Fenton!"
For all of your Fenton needs shop online with an authorized Fenton dealer today, or click here to find a dealer near you.