Memorial Day is Monday, May 29
---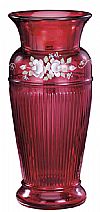 Cranberry is a Fenton Classic
Classic Cranberry is made with pure gold in the formula, providing a rich depth and color that radiate warmth and beauty. This timeless design of simple white roses and blue forget-me-nots remains a Fenton favorite. We have added five rich Cranberry shapes to this popular motif; a basket and vase in the Adam's Rib pattern are joined by a pitcher, a Victorian melon vase, and a petite pillar lamp.
• To buy the 9" Ivory Roses on Cranberry Adam's Rib Vase
---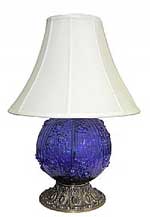 "This Cobalt Lamp with a cloth shade will bring a warm country charm to your home."

This large lamp with a traditional Cobalt glass bottom globe and cloth shade will bring a warm country charm to your home. The deep blue of cobalt is a classic glass color from our nation's early history. Fenton lamps are traditional examples of American craftsmanship, destined to be treasured for generations.
• To buy the 24" Fenton Gift Shop Cobalt Blue Lamp
• To shop for Gift Shop Exclusives
---
The Fenton Gift Shop is proud to Salute the U.S. Army, Navy, Air Force, Marines and Coast Guard!

Show your true American spirit for a loved one in the U.S. Army. Both the 4 1/2" U.S. Army Star and the 4 1/2" U.S.A. Army Patriotic Paperweights

have been sandcarved in gold with the U.S. Army logo. Handcrafted with pride by the artisans of Fenton Art Glass in West Virginia.
Other service paperweights are available: U.S. Marines, U.S. Air Force, U.S. Navy, U.S. Coast Guard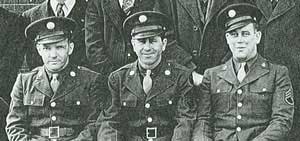 Fenton employees who served in WWII,
Photo taken February 28, 1943.
---
Shop for fantastic Memorial Day Weekend Savings at the Fenton Gift Shop!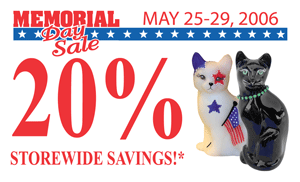 Starting Thursday, May 25 thru Monday, May 29
Save on entire stock of unique Fenton Gift Shop Exclusives including our Glamour Cat, and our handpainted Memorial Day Cat (the first in a series of four patriotic designs), all Fenton Samples, "Retired" First-Quality including QVC items, all "Preferred Seconds", a great assortment of Fenton Lamps, and non-Fenton giftware including "West Virginia Made" items!

*20% Storewide Sale excludes 2006 Fenton First-Quality line, internet purchases, Limited Editions and Connoisseur Collection, Dave Fetty Originals, and clearance giftware.

Meet the Glass Experts!
Free Glass Identification
Sunday, May 28th - 1pm - 4pm in Fenton Museum, Educational and Fun! Old or new, bring it with you and our experts will do their best to identify it. Due to the popularity of this event, we ask that you limit your pieces to three.



Fenton Family Signing Event!
Meet Christine Fenton, daughter of the late Wilmer C. "Bill" Fenton, Monday, May 29th - 11:00am - 2:00pm. Christine will sign all your first-quality purchases signed and two Fenton favorites from home!

• For more information, contact customer service at 1-800-319-7793 or click here.
---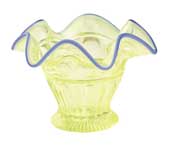 Fenton Glass Family Signing Events this Week...
Mark your calendar! A member of the Fenton family will personally sign your Family Exclusive pieces and all Fenton purchases. Reserve yours today. Check the schedule below for the location of an event near you!
7 1/4" Topaz Basket - (Not Pictured)
3 3/4" Topaz Bowl
May 26
Hayes Carpeting, Scott Fenton, Noon - 3 pm
Reidsville, NC, 336-634-1161
May 29
Fenton Gift Shop, Christine Fenton, 11 am - 2 pm
Williamstown, WV, 1-800-319-7793