Fenton Art Glass Company... handcrafted in America for 100 years, continues to support charitable causes...
---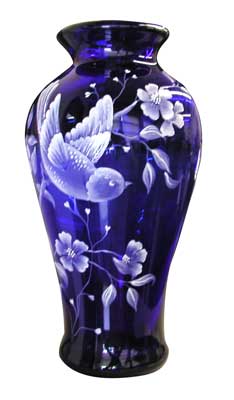 Now you can help in the ongoing effort to fund research and to find a cure for ALS (Lou Gehrig's disease). Fenton Art Glass will auction this one-of-kind piece, a handcrafted 9" Cobalt Vase decorated in the painstakingly detailed Mary Gregory style with white enamel…so challenging to work with, it's like painting with marshmallow cream! Only the most skilled decorators can work in the Mary Gregory style, and our very talented Stacy Williams was inspired to create this dazzling bird and flower design, signifying hope and freedom in the fight against ALS.
Only one such piece will ever be created, and the auction begins at noon ET on Friday, July 15. This unique vase bears the signature of Stacy Williams and nine Fenton family members: Shelley, Christine, Randy, Nancy, Scott, Tom, Mike, George and Lynn. Proceeds benefit ALS Association. Please do your part to support this worthy cause.
For more information about ALS and the ALS Association, visit www.alsa.org or call 1-800-782-4747.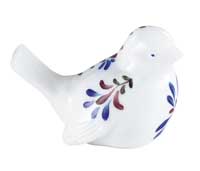 A little birdie told me I had to have this 4" handpainted Country Americana bird…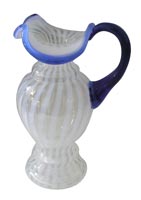 Dreamy French Opalescent glass with a dramatic 6" rib optic is handcrafted into an heirloom collectible pitcher, finished with a Cobalt ring and handle.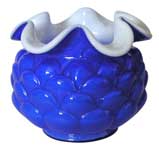 Blue and white is always right! Enjoy this handcrafted 4 1/2" Cobalt and Milk Glass Vase and begin a collecting tradition