Fenton Art Glass, handcrafted in America for 100 years, presents..
Entertaining with Fenton Glass...
you've collected it for years, now use and enjoy it!
---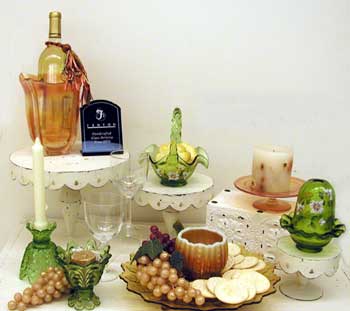 Sharing good times with family and friends is especially meaningful and setting a beautiful table is one way to show you care. Decorating and entertaining with collectibles lets you enjoy and celebrate your collection and highlight favorite pieces in a special way.
1. The Marigold Square Vase holds a bottle of wine or sparkling cider with style.
2. Two-Way Drapery Votives can serve as small sherbets, nut dishes or individual floral holders at an elegant table.
3. Use the Aqua Opalescent Marigold Rose Bowl to hold dip; place it on a cakeplate and surround with crackers or chips.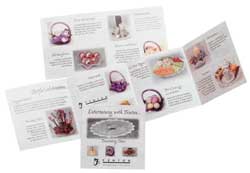 4. A basket filled with cookies or crackers adds elegance to any occasion.
For all of your Fenton needs shop online with an authorized Fenton dealer today, or click here to find a dealer near you.