Fenton Art Glass, handcrafted in America for 100 years, reminds...
Community involvement and charitable contributions are critical to each of us.
Please take a moment to consider selected opportunities created especially for Fenton enthusiasts.
---
Fenton fanatics are aflutter over the one-of-a-kind Angelo Rossi "Blue Sea Sky" Vase to be auctioned on eBay to benefit ALS Association!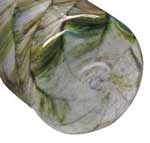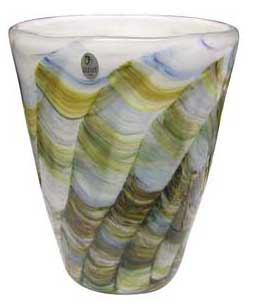 Don't miss out on this very special opportunity to own an absolutely unique piece created by master glass craftsman Angelo Rossi exclusively for Fenton Art Glass.
---
The auction begins at noon Eastern Time on Thursday, September 15, 2005. To learn more, click here.



This one-of-a-kind Vase began with elegant crystal and simple Milk Glass, which in the hands of Angelo Rossi becomes a canvas for a veritable rainbow of colors. Escape into a sea of blues, greens, golds, yellows, violets and browns, all drifting in a tubular web like pattern across this impressive 9" Vase. This unique "Blue Sea Sky" Vase bears the inscribed signatures of all nine Fenton family members and the signature of master craftsman Angelo Rossi, making this handcrafted piece of artisan glass especially desirable.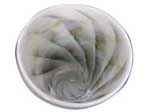 The Fenton family chose this unique piece to auction exclusively on eBay, with the proceeds to benefit the ALS Association. The ALS Association is the only national non-profit voluntary health organization dedicated solely to the fight against ALS. Often referred to as Lou Gehrig's disease, amyotrophic lateral sclerosis (ALS) is a progressive neurodegenerative disease that attacks nerve cells and pathways in the brain and spinal cord. There is no known cure for ALS.


The Fenton Foundation of the Fenton Art Glass Company has been providing philanthropic support for over 50 years. In 2004, the Fenton Foundation selected the ALS Association as its national partner. The ALS Association was chosen because of the Fenton family's direct experiences with this terrible disease, and to date, Fenton has donated over $25,000.00 to the ALS Association through the sale of selected pieces. The Fenton family will continue to work in partnership with ALS Association to make advances in the fight against Lou Gehrig's disease. For more information about ALS and The ALS Association, visit www.alsa.org or call 1-800-782-4747.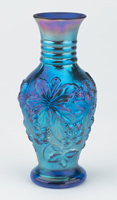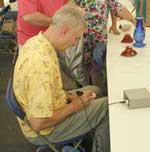 Fenton fans will also have the opportunity to meet Fenton family members in person at selected Family Signing Events nationwide throughout September and October 2005. Enjoy an exclusive Family Signing Event Piece, a 6 1/4" Favrene Vase (right) -handcrafted in the Loganberry design and available ONLY at Family Signing Events.
To locate a Family Signing Event near you...
For all of your Fenton needs shop online with an authorized Fenton dealer today, or click here to find a dealer near you.