Check out what's new on eBay Bid Now!
---
Fenton's Frolicking, Rollicking Chocolate Spaniels!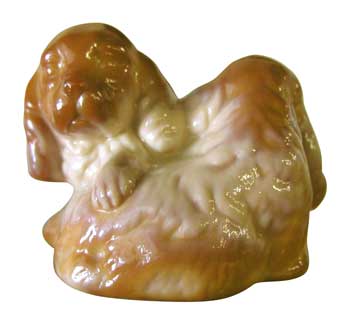 Designed by Fenton's Tony Rosena in 1983, our "Spaniels" figurine captures a great moment. Everyone smiles at the sight of two frolicking, rollicking Spaniels having a roll-around!
Historic Chocolate glass, perfected by Jacob Rosenthal and first made by Fenton 99 years ago, is the perfect color for these two playful dogs! They're buddies for life!
Fenton's Frolicking, Rollicking Chocolate Spaniels figurine is limited to just 300 pieces, created especially for eBay, and each piece is individually numbered. Each piece is 2 1/2" high and 3 1/4" wide.
Fenton partnered with eBay to provide both auction and "Buy It Now" opportunities for the eBay community.
Beginning Tuesday, February 14, collectors have the opportunity to bid on pieces numbered 1 through 5.

Then on Thursday, February 23, the eBay community will have the opportunity to purchase pieces numbered 6 through 300 with the eBay "Buy It Now" option.
For all of your Fenton needs shop online with an authorized Fenton dealer today, or click here to find a dealer near you.
---
Fenton Gift Shop February Sale
February 17th - March 5th
It's that time of the year again. Temperatures dropping and prices too! There's no better time to shop for world-famous Fenton Art Glass than our Annual February Gift Shop Sale. With "retired" inventory at an all time high...this year's event starting February 17 promises lots of great buys, led by 50% savings on a tremendous selection of regular line "retired" first-quality Fenton!
Shop early for best selection. This two week sale extended through March 5th definitely has something for every Fenton collector as well as great all occasion gifts! Save on lots of baskets, figurines, handpainted ware, Burmese creations, and many seasonal pieces. Also save 20% on all first-quality samples and assorted lamps including beautiful gift shop exclusives and 30% off the finest selection of QVC and limited retired Fenton ever!
We look forward to seeing you in February! More information
---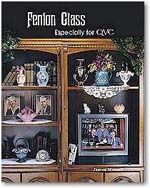 For your winter reading...special sale prices for Fenton Glass: Especially for QVC!!
Published in October 2002, Fenton Glass: Especially for QVC contains the most comprehensive coverage of the glassware made by Fenton Art Glass for electronic retailer QVC. Written by Fenton historian James Measell, this 176-page book is filled with great stories about Fenton products and the personalities (such as QVC host Steve Bryant) involved. The color photos and captions describe more than 1100 pieces in great detail!
Special sale prices will be available for this book 2/17/2006
Order the hardbound FG948 for $33.25 (original price $49.95) or the softbound FG947 $24.50 (original price $36.95).