Fenton Art Glass, handcrafted in America for 100 years, announces...
Fenton Chocolate Glass Logo, the eighth eBay exclusive, is available for both bid and "Buy it Now"
---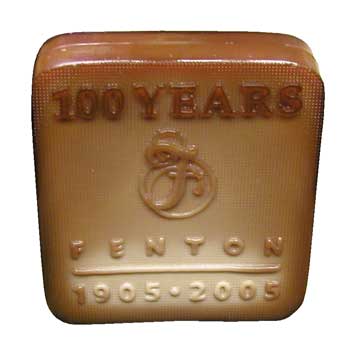 Rich Chocolate glass ranges in color from a deep mocha to a milky cocoa shade and no two pieces are ever exactly alike. Chocolate glass is a collector favorite, specially reissued to celebrate our 100th anniversary. The 3 1/4" square Fenton Logo is crafted in heat-sensitive Chocolate glass; this results in swirls and striations of color throughout each piece. The Fenton Chocolate glass Logo is individually numbered, limited to just 300 pieces, and created especially for eBay.
Beginning Wednesday, June 15th, collectors have the opportunity to bid on pieces numbered 1 through 5. Then, the eBay community will have the opportunity to purchase pieces numbered 6 through 300 with the eBay "Buy It Now" option. To bid now, click here.

To see more of the Chocolate glass available from Fenton…
For all of your Fenton needs shop online with an authorized Fenton dealer today, or click here to find a dealer near you.