Dave Fetty captures the essence of the sea and sky of the Caribbean.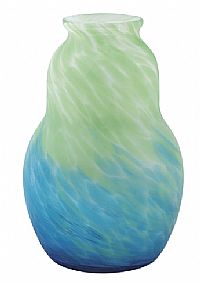 Glass artisan Dave Fetty developed a special process to create this spectacular vase, capturing the essence of the sea and sky of the Caribbean. Multiple layers of crystal and powdered glass in white, blue and green are carefully combined by Dave to produce this dramatic result. No two will be exactly alike...but all will be beautiful! Limited to 750 pieces.
---
Fenton and Virginia's Gift Shop at Knott's Berry Farm... a partnership in quality and tradition

Knott's Berry Farm
Shopping at Knott's is truly unique. From fine art and collectibles to Knott's famous jams and jellies, there is something for everyone.
Virginia's Gift Shop®
Offering one of the West's largest selections of decorative treasures and collectibles of all kinds! Virginia's has commissioned the Fenton Art Glass Company to create exclusive pieces for its customers, in addition to offering many fine pieces from our regular line.
Fenton and Virginia's Gift Shop are pleased to extend a special offer to selected collectors and bell enthusiasts!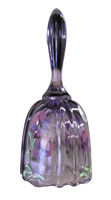 "Johnny Jumpup" Violet Bell
Handcrafted in rich Violet glass, each "Johnny Jumpup" Bell bears the handpainted image of exotic flowers and a lively inchworm! Complete with a crystal clapper suspended by a metal chain, each Bell is signed with pride by the artist who completes it... $40.00.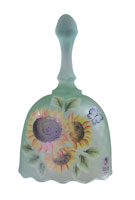 "Sunflower" Willow Green Bell
Relax to the sound of the "Sunflower" Bell, handcrafted in sanded Willow Green glass and handpainted with a splashy sunflower design. A darling blue butterfly flutters by; each Bell is completed with a crystal clapper and signed with pride by the artist who handpaints it... $49.50
To order either or BOTH Virginia's Gift Shop EXCLUSIVE Bells, please call Virginia's Gift Shop directly, at 714/220-5323, every day, 9:00 am to 7:00 pm, Pacific Time.
---
Fenton's Frolicking, Rollicking Chocolate Spaniels still available on eBay. Hurry, supplies limited. Buy Today!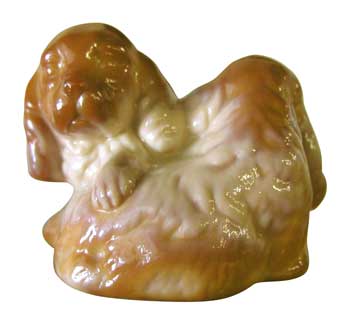 Designed by Fenton's Tony Rosena in 1983, our "Spaniels" figurine captures a great moment. Everyone smiles at the sight of two frolicking, rollicking Spaniels having a roll-around!
Historic Chocolate glass, perfected by Jacob Rosenthal and first made by Fenton 99 years ago, is the perfect color for these two playful dogs! They're buddies for life!
Fenton's Frolicking, Rollicking Chocolate Spaniels figurine is limited to just 300 pieces, created especially for eBay, and each piece is individually numbered. Each piece is 2 1/2" high and 3 1/4" wide.
Fenton partnered with eBay to provide both auction and "Buy It Now" opportunities for the eBay community.