The Next QVC Show is Saturday, August 26
---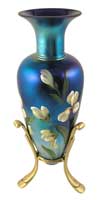 Fenton Favrene Amphora Vase on fentonartglass.com
Thursday, July 20 at Noon ET
Shimmering tones of pure silver in the batch allow Favrene glass to project a rainbow of color. Favrene glass is made with silver that is coaxed to the surface in a special reheating process. When sprayed with metallic salts it develops a silvery-blue satin luster. Frances Burton's floral motif complements the brilliance of this remarkable and popular glass color. Limited to only 75 pieces, the 14-1/2" Favrene Amphora Vase will only be available at fentonartglass.com.
---
Here's a Piece of Fenton Glass That Will Make You Stand Tall and Salute!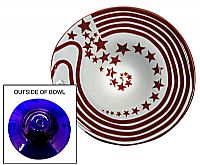 Master glass craftsman Dave Fetty combined three glass colors (blue, white and red) in separate layers to produce an exquisite flared bowl (9-1/2" d.). Then, the talented artists in Fenton's sandcarving area took over, creating an elaborate stars and stripes motif on the interior. This piece is a true "one-of-a-kind" from Fenton Art Glass, and it really makes a statement about the pride and patriotism of all of us! (Has Dave Fetty's backstamp) Only 23 made!
• To buy the 9-1/2" d. Dave Fetty Stars and Stripes Bowl
• To shop for Dave Fetty Exclusives
---
The 2006 Connoisseur Collection
Showcases Fenton Art Glass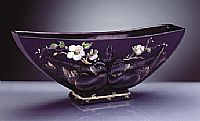 Stacy Williams was inspired by the touching beauty of two birds gracing a mould created by Verlys of France in a simple Asian design. In the 1930s, Verlys created moulds that are now recognized for timeless, elegant designs that appeal to both traditional and contemporary settings. The velvet surface of Aubergine is handpainted with cherry blossoms and sleek bamboo to enhance the Asian theme. Highlights in gold glimmer on the feathers of the birds, further emphasizing the depth of the pattern. Limited to 1250 pieces.

• To buy the 12 1/2" d. Aubergine Verlys Birds Vase
---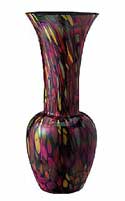 Fenton Art Glass Extends Tradition with Mosaic Piece
The 2006 Connoisseur Collection from Fenton Art Glass showcases the skills and talents of both glassworkers and artists. A new shape in this year's Collection continues the Mosaic art glass tradition first begun at Fenton eight decades ago.
Master glass artisan Dave Fetty's Mosaic vase has a contemporary look which is on trend for today's styles. Dramatic black glass is fused with crushed glass in vivid colors of red, orange, yellow, and green. The glassmakers' artistry is heightened with the addition of random threading over the surface of the vase before it receives a mist of satin luster. The Mosaic vase will make a statement wherever it is placed in one's home! Limited to 1250 pieces.
• To buy the 8-1/2" Mosaic Vase
---
The 2006 Connoisseur Collection is now available online for purchase

It includes the "Autumn Morn" Burmese Lamp, Verlys Birds Vase, "Serenity" Rosalene Guest Set, "Mulberry Medley" Vase, Sunflower on Plated Amberina Vase, "Freedom Soars" Vase, Mosaic Vase, Dave Fetty Crayon's Vase and the popular Vision on Aubergine.
---
in less than 2 weeks La-Tee-Da! Lamps

We're excited to introduce new effusion lamps made exclusively for La-Tee-Da! These bottles even have their own Fenton crown! All bottles will be shipped with a FREE bottle of fragrance. The lamps are produced by the master craftsmen of Fenton in our factory in West Virginia. Fenton Collection La-Tee-Da! effusion lamps will be available at participating dealers and online at fentonartglass.com.
---
Fenton Gift Shop Susan Bryan Exclusives
• To shop for Fenton Gift Shop Exclusives
• To shop for Susan Bryan Exclusives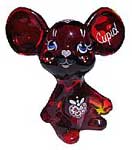 Our angelic Ruby Mouse named "Cupid" was designed and hand painted by Susan Bryan. This Featured Artist Exclusive will surely delight the young at heart.
• To buy the 3" Fenton Gift Shop Ruby Cupid Mouse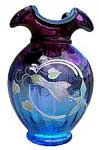 Our "Spring Melody" 6" Vase was designed and handpainted by Gift Shop Featured Artist Susan Bryan. Produced in rich Mulberry glass and handpainted with gold accents and a delicate hummingbird that sweetly flutters, seeking the nectar of a morning glory. This Featured Artist Gift Shop exclusive vase for April 2006 is numbered and strictly limited to only 100 pieces!
• To buy the 6" Fenton Gift Shop Spring Melody Mulberry Vase
---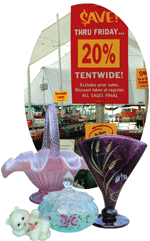 Annual Big Top Savings... A Fun Summertime Hit with Everyone!
Make plans now to attend Fenton's Annual Tent Sale, June 23 to August 6. It's a once-a-year opportunity to shop under the Big Top for a wide variety of handcrafted Fenton at prices that just keep getting better!
Save an additional 20% on everything under the tent starting July 15. Make plans now to attend this once-a-year opportunity to shop under the Big Top for a wide variety of handcrafted Fenton at prices that just keep getting better! more information
---
| | |
| --- | --- |
| | Everything is discounted in the Fenton Clearance Corner. All first quality items. New items added weekly! shop now |