The Next QVC Show is Tuesday, July 4
---
A look back to the 2005 Platinum Collection, showcasing the best of Fenton Art Glass - past, present and future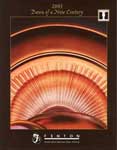 Each piece was carefully selected to highlight a distinctive Fenton glass color, specific decorating style, or an aspect of glass mastery that has made Fenton the premier U.S. glass manufacturer from 1905 to today. Each piece bears the 100th anniversary logo, is numbered and strictly limited.
• To browse the entire 2005 Platinum Collection
• To browse the 2005 Fenton Catalog
---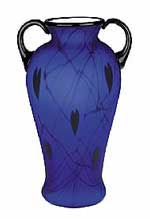 The best of our past inspired the "Braveheart" Cobalt Hanging Hearts Vase
In learning to re-create offhand art glass from the 1920s, Dave Fetty developed skills to elevate Fenton's studio glass offerings. The process begins with a core of Milk Glass covered with Cobalt Blue glass. Black glass threads are then worked into the surface of the Vase, and Black glass edging is applied and worked by hand along with the addition of the Black glass handles. Each Vase is unique - a true work of art.
• To buy the 10" "Braveheart" Cobalt Hanging Hearts Vase
• To shop for Dave Fetty Exclusives
---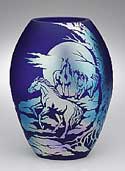 A tribute to the glassmaker's art, the "Wild Horses" Favrene Vase
The deceptively simple Vase is the most difficult shape we've ever done in Favrene. The large vase is the perfect canvas for Robin Spindler's majestic horses frolicking against a moonlit sky created by the shimmering tones of pure silver in the batch.
• To buy the 12" "Wild Horses" Favrene Vase
---
Upcoming Fenton Art Glass Events

At a Fenton Art Glass Open House/Rep Event, you will truly experience Fenton. Tour the Fenton factory on video, meet and learn more about Fenton glass from a Fenton Sales Representative and enjoy the opportunity to purchase exclusive pieces handcrafted in America and only available at Rep Events.
• For a complete list of events
Saturday, June 24

Elegance

(all day)

2500 W. Kennewick Ave.

Kennewick, WA

877-331-3373

Saturday, September, 16

Coe's Mercantile

10 am - 5 pm

1240 SE 40th

Hillsboro, OR

503-640-9122
---
Don't miss these Fenton Art Glass events held each year at the Fenton Gift Shop. Exciting Fenton Events await you along with the warm hospitality of The Mid-Ohio Valley. It's a visit to the past that will last well into the future! For more information on the tent sale, click here.
• Annual Tent Sale
Fenton Gift Shop
420 Caroline Ave.
Williamstown, WV, 800-319-7793
---
Fenton Gift Shop Exclusives...
Entertain in style with classic Milk Glass Hobnail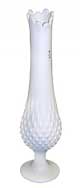 Our tall Milk Glass Swung Vase is destined to become a family heirloom. Produced exclusively for the Fenton Gift Shop, this magnificent swung vase ranges in size from 11" to 13" high and no two are exactly alike!
• To buy the 11-13" Fenton Gift Shop Milk Glass Hobnail Swung Vase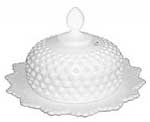 Whether for every day use or for special occasions this Milk Glass Butterdish will be a family favorite. This two piece butterdish was produced exclusively for the Fenton Gift Shop. A piece with true heirloom potential.
• To buy the 8 1/2" Milk Glass Hobnail Butterdish
• To shop for Fenton Gift Shop Exclusives
---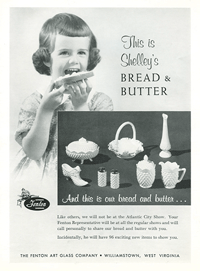 This is a vintage Fenton Art Glass advertisement from the 1960s showing Fenton's Milk Glass Hobnail Pattern. The young model is Shelley Fenton Ash. Shelley is a member of Fenton's third generation management team and the youngest daughter of the late Bill Fenton. Much of Shelley's time today is spent developing the Fenton catalogs, which includes graphic design as well as composing shots with our photographer. She also serves on a committee that oversees the development of new products.
---

The long flowing fins of the Butterfly Koi are resplendent in the silver shimmer of Favrene glass.
These prized fish are the most elegant of the Koi family yet also the most hardy. The sculpture of Jon Saffell captures their graceful beauty. Limited to 2500 pieces.
• To buy the 5" Butterfly Favrene Koi Fish

Robin Spindler's love of travel inspired this scenic collection.
Each element is painstakingly handpainted with delicate shading so lifelike...they beg to be touched! The lush tropical flower and foliage carry us into Robin's world of exotic beauty.