Fenton Art Glass Company... handcrafted in America for 100 years...beckons...
Step Right Up and Win a Prize!
---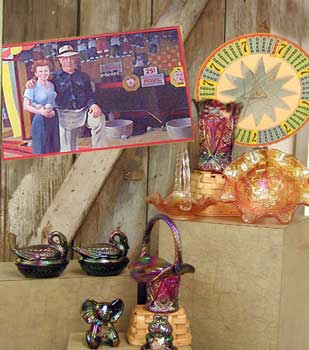 With Fenton, you're a winner every time! Carnival glass received its name because it was used as prizes at carnivals and manufacturers could still make it cheaply enough for this purpose. Rich with vivid iridescent hues, much like the look of oil on water, Carnival glass, an iridescent ware, is highly patterned pressed glass, prized by collectors and glass enthusiasts. For more than two decades Fenton letterhead proudly carried the phrase, "Originators of Iridescent Ware", known today as Carnival glass.

To see more Carnival Glass selections…
For all of your Fenton needs shop online with an authorized Fenton dealer today, or click here to find a dealer near you.