Carnival Glass...A Fenton Hallmark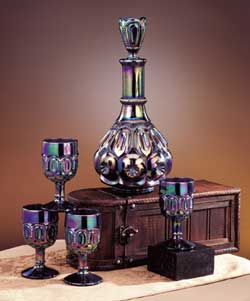 Fenton Art Glass launched America's first Carnival glass treatments in 1907, and they have remained a Fenton hallmark. Collectors worldwide search for our finest examples of this "iridescent ware" that first put Fenton on the map.
Once again we bring you the most popular of our signature iridescent treatments in a medley of collectible colors - Red Carnival, Amethyst Carnival and the difficult Marigold Carnival. As always, we present pieces not made previously in these Carnival colors or shapes.
• To buy items from the 2006 Carnival Collection
• To buy the Amethyst Carnival Decanter Set - (pictured above)
---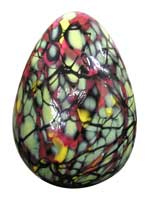 Coming Soon to the Fenton Website -
Fetty Mosaic Eggs
Glass artisan Dave Fetty has created a splendid Mosaic Egg,
using black glass and green, yellow and red frit. This is a spectacular work of museum-quality art, perfect to give or to own. No two will be alike! But, all will have Dave's personal stamp! Keep checking our website for details - www.fentonartglass.com
• To shop for Dave Fetty exclusives
---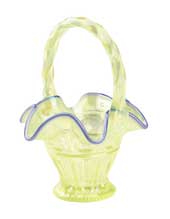 Signing Events
Mark your calendar! A member of the Fenton family will personally sign your Family Exclusive pieces and all Fenton purchases. Reserve yours today. Check the schedule below for the location of an event near you!
To see if an event is coming to a city near you simply click on the Fenton Family Member's name or search by State Postal Abbreviation below.
George Fenton Mike Fenton Shelley Fenton Ash
Nancy Fenton Scott Fenton Lynn Fenton Erb
AL - AK - AZ - AR - CA - CO - CT - DE - DC - FL - GA - HI - ID
IL - IN - IA - KS - KY - LA - ME - MD - MA - MI - MN - MS - MO - MT - NE
NV - NH - NJ - NM - NY - NC - ND - OH - OK - OR - PA - RI - SC - SD
TN - TX - UT - VT - VA - WA - WV - WI - WY
---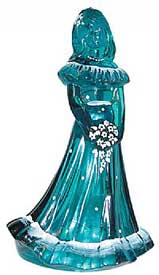 Fenton Gift Shop
Bridesmaids Dolls
The colors of water satisfy a yearning for peace and healing - Expand your horizons with this Turquoise Bridesmaid Doll. Deep white enamel is used to handpaint accents dress and flowers.
Produced as a Gift Shop Exclusive for our 100th Anniversary, she is signed by the artist and bears the FGS 2005 Centennial Exclusive logo.
---
Our Aubergine Handpainted Bridesmaid Doll is a new gift shop exclusive for 2006 and production is strictly limited. This piece is a perfect compliment to the "Vision on Aubergine" Collection. Each doll bears the artists signature along with the FGS 2006 Exclusive Logo.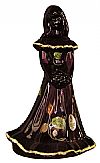 • To buy the 7" Handpainted Turquoise Bridesmaid Doll - (pictured above)
• To buy the 7" Handpainted Daisy Chocolate Bridesmaid Doll
• To buy the 7" Chocolate Bridesmaid Doll - Satin Finish
• To buy the 7" Chocolate Bridesmaid Doll
• To buy the 7" Aubergine Handpainted Bridesmaid Doll - (pictured right)