The fiery fury of Fenton's furnaces creates a "liquid" gold" that when cooled is captured forever in the honeyed shades of Autumn Gold.
• For more information, click on the items below.
---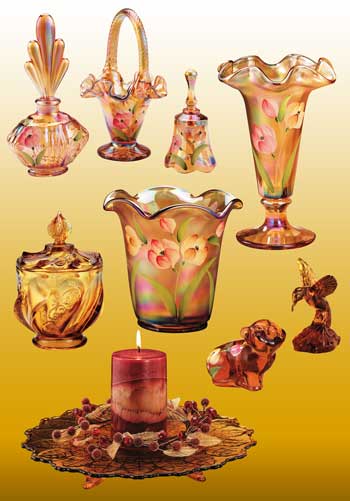 • For a closer look at Fenton's Autumn Gold glass, visit an authorized Fenton dealer today. To find a dealer near you, click here.
---
hours of Fenton on QVC!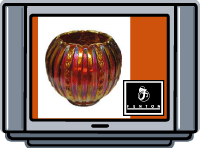 Mark your calendar and plan to join Shelley Fenton Ash for some exciting Fenton moments. One day, two shows, what fun! Treat yourself to that special piece!
Monday, June 5
1:00 am to 2:00 am ET and
1:00 pm to 3:00 pm ET

• For a PREVIEW of the SHOW and selected pieces
Remember, you can shop for Fenton exclusives on QVC ANYTIME by visiting www.qvc.com.
---
Open House Rep Events

At a Fenton Art Glass Open House, you will truly experience Fenton. Tour the Fenton factory on video, meet and learn more about Fenton glass from a Fenton Sales Representative and enjoy the opportunity to purchase exclusive pieces handcrafted in America and only available at Rep Events.
3 1/2" Chocolate glass elephant, inscribed with Scott Fenton's signature ($29.50 U.S.)
June 3
Remember When, 11 am - 2 pm, 108 S. Public Square, Centerville, TN, 931-729-0052
June 3
Corner Gift Box, 10 am - 3 pm, 1011 Main St.
Sumner, WA, 253-863-3159
• For a complete list of events
---
Susan Bryan can paint it!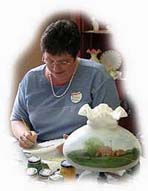 The Fenton Gift Shop's featured artist, Susan Bryan, has made hundreds of special "one of a kind" requests come to life.
A self taught artist who has worked for Fenton for 31 years, Susan enjoys having the creative freedom to design and her perfectionism shines through in her works.
To inquire about placing a special order please call 1-800-319-7793 x320, x327 or x383 or stop in and meet Susan, Monday thru Friday from 8:00am - 4:30pm.
New Fenton Gift Shop Exclusives

The lovely Fan Vase in Fenton's Burmese Glass
This lovely Fan Vase in Fenton's highly collectible Burmese glass bears a delicate handpainted floral design entitled "Spring Blossom," which was created and handpainted by Gift Shop Featured Artist Susan Bryan. This Gift Shop Exclusive is numbered and strictly limited to only 100 pieces. To buy the 8" Fenton Gift Shop Spring Blossom Burmese Fan Vase
Fenton Gift Shop Exclusive, the Playful Lotus Mist Burmese Elephant

Our playful Lotus Mist Burmese Elephant, dressed in his circus attire, will add a little whimsy to your collection. This Gift Shop Featured Artist Exclusive for 2006 has been designed and handpainted by Susan Bryan. Quantities are very limited! To buy the 3 1/2" Fenton Gift Shop Lotus Mist Burmese Elephant
• To shop for Fenton Gift Shop Exclusives
---
Next week in the Fenton Newsletter
Christmas is coming early to Fenton!

• On Thursday, June 8, Fenton's Christmas 2006 catalog items will be available for purchase at fentonartglass.com.