Fenton Art Glass, handcrafted in America for 100 years, presents...
Summer is over, so fall into Fenton!
---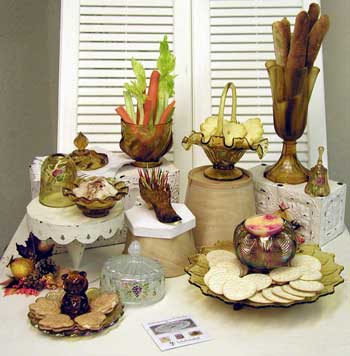 The days are growing shorter; the nights cooler...autumn is here. It's the perfect time for entertaining with family, friends and Fenton. Set a table with rich Autumn Gold selections to capture the beauty of fall forever. Use and enjoy your Fenton and start a collecting tradition destined to create family heirlooms.
We used our Fenton a variety of ways:
Wheatberries on Autumn Gold Fairy Light: Use the base to hold dips!
Autumn Gold Candy Box: Use the bottom to hold carrots and celery; the lid can be used to keep a stack of napkins in place!
Autumn Gold Slipper: Useful to hold cocktail picks or toothpicks
Wheatberries on Autumn Gold Basket: Fill with cookies or crackers
Autumn Gold Handkerchief Vase: Fill with breadsticks for a stylish presentation
Golden Tulips on Autumn Gold Bell: Call friends and family to the dinner table
Autumn Gold Drapery Rose Bowl: Holds the dip; set it on an Autumn Gold Cakeplate: Hold chips or crackers!
Grape Covered Butter can serve two tasks: Use the base to present cookies with an Autumn Gold Bear as sentry while the lid covers used toothpicks and olive pits
To see more Fenton pieces in Autumn Gold...
For all of your Fenton needs shop online with an authorized Fenton dealer today, or click here to find a dealer near you.