New for 2006, Deep Rich Aubergine Strikes an Elegant Note...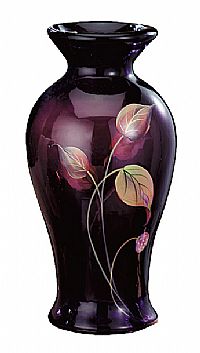 Fashion designers and home decorators alike love the color of Catalan alberginia, the eggplant! Called "Aubergine" by Fenton Art Glass, this luxurious color is now offered in sleek, streamlined glass shapes which fit nicely into today's home styles. Fenton designer Stacy Williams used layers of sheer color to create the complex shading for a handpainted motif called "Visions" on Aubergine glass. The fluid leaves and a pink Kousa dogwood pod are perfect complements to the regal color of the glass.
Aubergine is an eye-catching color, and your guests are sure to remark on its appeal. We think it's just awesome!
To buy the 7 1/2" - "Vision" on Aubergine Vase pictured above, click here.
---
The key ingredient in making any shade of amethyst glass is manganese dioxide. In its black powder form, this colorant imparts a violet hue to the basic batch of silica sand, soda ash, and lime. As Fenton chemist Wayne King explains, "The more manganese, the stronger the color." For the rich, regal tone we sought, Wayne developed a formula using a small quantity of another colorant often used for making blue in concert with the manganese. "This substance is a very strong colorant," Wayne says. "The amount has to be measured just right every time we melt a batch for the color to be consistent in making the various pressed or blown articles in our 2006 line."
---
"Mom's A Treasure" Celebration
May 5 - 6, 2006
In anticipation of Mother's Day 2006, participating Fenton dealers across the country will be hosting a variety of events on May 5-6.
At these dealer locations, you can enter a special contest to win various prizes and even a $400 Fenton spree by telling us why your Mom's a treasure! If your Mom enjoys Fenton glass, there could be a real treat in store for her.
We created a Burmese Purse treasure box, graced with a floral motif designed by Stacy Williams and a special message ("You¹re a Treasure") inside. This Burmese Purse will be available ONLY at stores hosting the special Fenton events. This Burmese Purse covered box features a handpainted floral motif designed by Stacy Williams. Perfect for storing life's little treasures... and a perfect for Mom!
3" Burmese Purse, inscribed

with the signatures of Nancy Fenton, Shelley Fenton, and Lynn Fenton ($58.50 U.S.)
Click here for more information.
---
Did you know?
Both Anna Jarvis, who founded Mother's Day, and Fenton Art Glass are treasures from West Virginia. When Fenton began producing glass in 1907, the campaign for a national Mother's Day was taking hold. In 1914, Mother's Day became a national holiday, and Fenton Art Glass proudly honors mothers everywhere. They are truly a treasure!