Fenton Art Glass... Handcrafted in America for 100 years, reminds...
May is ALS awareness month
---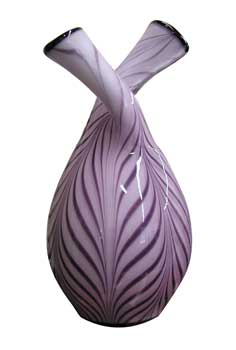 Fenton fans and Fetty fanatics are crazy about the one-of-a-kind Fabulous Fetty Feather Vase at auction on eBay to benefit ALSA!



A once in a lifetime chance to own a unique Dave Fetty creation – a "feather" vessel that is no ordinary vase – it's extraordinary! Master glass craftsmen Dave Fetty was inspired when he created this intriguing double-neck Vase…starting with Milk glass, Violet threads are applied over the piece and carefully pulled to create the unique and desirable "feather" design, a medley of amethyst and lavender hues covered with crystal; a Black glass ring is added to each opening to finish the piece. This special Fabulous Fetty Feather Vase bears the signatures of nine Fenton family members as well as the Dave Fetty backstamp, making this handcrafted piece of artisan glass even more desirable. Proceeds benefit ALSA. To bid now....
---
FREE Fenton Factory Tours Are Fabulous!
2005 marks the 100th anniversary of Fenton Art Glass – make 2005 YOUR YEAR to visit Fenton!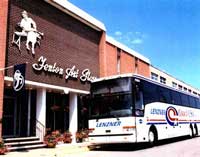 Rated in USA Today as one of the TOP 10 tours in America, there is nothing like the Fenton Factory Tour. Watch raw materials become molten glass which is shaped by artisans in the age-old tradition. Furnaces glow; sparks fly, and from heat, noise and motion emerge works of art that captivate and delight.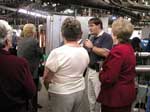 The crafting experience showcases the talent of skilled artisans painstakingly handpainting each piece, and ends in the Gift Shop. The Fenton Museum highlights glassware from 1880 to the present.

Enjoy special Centennial Events designed to make your visit a truly "once in a lifetime experience" – decorate your own Fenton Christmas ornament, observe the talents of skilled craftsmen Dave Fetty and Jim Ralston as they create special Fenton Centennial pieces, even make your own glass!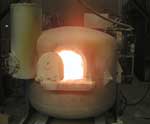 Can't make it to West Virginia? Education and commerce met when Fenton Art Glass asked Marietta College students to create a promotional video for the Centennial Celebration. Fenton commissioned a special CD from the college as an educational and promotional tool. It focuses on the history of the Fenton family and the company as well as the 100-year-old glass-making process that makes Fenton glass so unique.
To learn more about the mini-CD...

For all of your Fenton needs shop online with an authorized Fenton dealer today, or click here to find a dealer near you.