Fenton Art Glass, handcrafted in America for 100 years!
Today's lesson...
The A, B, C's of Cranberry. It's elementary!
---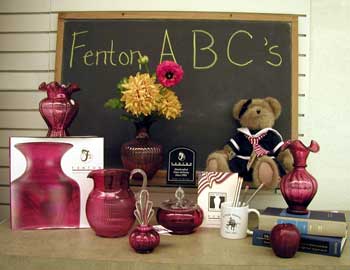 Cranberry glass, an American tradition. To understand the artistry of Cranberry glass, a Fenton signature color, one must begin at the beginning, and learn your Cranberry A, B, C's!

All Cranberry pieces contain pure gold.
Baskets in Cranberry take up to 25 glassworkers to produce.
Cranberry pieces are all mouthblown, not pressed.
Decorated Cranberry pieces, such as "Ivory Roses", pass through Decorating to be handpainted by a skilled Fenton decorator who proudly signs each piece.
Each Cranberry piece goes through the lehr, an annealing oven, where it slowly cools to room temperature.
Fenton glassworkers work as a team, or "shop", in this case a blow shop, to create each piece of Cranberry.
Gold in the batch reacts with intense heat to create the beautiful Cranberry color.
Handlers mark each basket with their personal tool when they attach the graceful arch that becomes the handle to each basket.
Ivory Roses on Cranberry remains a popular decorated Cranberry pattern in 2005.
Just making Cranberry is an art, requiring skill and knowledge to craft the formula from scratch.
Known for Cranberry, Fenton has been producing it since the 1930's.
Lots of optics are used with Cranberry Opalescent such as Coin Dot, Spiral, Zigzag and Diamond.
Magic begins when a glassworker called a "caser" attaches a "bud" of glass containing pure gold to a blowpipe. This is the start of Cranberry!
No overblow can remain on a piece. After the overblow is removed, the piece is reheated and taken to the finisher. He skillfully employs a carbon paddle to flare the top and another special device to crimp the edge.
Other glassworkers gather crystal over the bud, shape it by "blocking" in soapy water, and gently expand the gob before passing the blowpipe to a glassblower.
Paired with crystal, the ruby roll is cased and blown into a mould to create the main shape.
Quality control is critical in all aspects of Cranberry production.
Ruby glass in a roll, known as a ruby roll, which contains pure gold, is the first step in making Cranberry.
Striking is the technique used to create Cranberry Opalescent, which is a heat-sensitive glass.
The glassblower stands on a platform with the mould below his feet and blows the molten glass into the mould to create the desired shape.
Under the watchful eye of the selector, each piece is reviewed for quality as it as it leaves the lehr.
Various shapes in Cranberry are the result of using different moulds such as Hobnail or Drapery.
When the Cranberry piece is removed from the mould it has a thin crystal "overblow" that must be removed.
Xtra -secret! We can't reveal the Cranberry formula – it's TOP SECRET!
Years of training are required to become a skilled glassworker.
Zigzag is an optic mould while Zipper is a crimp, both of which have been in produced in Cranberry.

To see additional Cranberry pieces offered by Fenton...
For all of your Fenton needs shop online with an authorized Fenton dealer today, or click here to find a dealer near you.
Fenton Cranberry, it's elementary. Now you know your Cranberry A, B, C's!