The Next QVC Show is Tuesday, October 3
---
Trick or Treat from Fenton!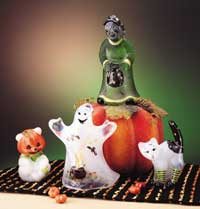 In costume and ready for "trick or treat," Lil' Punkin the Bear will make you smile with memories of a childhood Halloween long since past. Newly designed for 2006, our popular Ghost and Witch figurines feature some subtle (but not too scary!) bats in their handpainted designs. "Hat-on-Cat" returns with some spiffy new socks to grace its feline form.
---
New Sample Room Items this Week
1961 Burmese Jacqueline Pattern Vase

Opening Bid $90 (eBay)
Auction starts Noon ET, 9-14-06



This beautiful Burmese piece in our Jacqueline pattern stands 3" tall. It was made in May, 1961, so it dates from the time of some of our early experiments seeking to create this classic art glass color, which contains pure gold.
*New Sample Room items can be previewed each Wednesday.
Items will be available on Thursdays at Noon ET.
• To shop for items in our eBay store
---

Mark your calendar! A member of the Fenton family will personally sign your Family Exclusive pieces and all Fenton purchases. Reserve yours today. Check the schedule below for the location of an event near you!
Our Family Signing Event exclusive for fall 2006 is a distinctive "Dogwood" basket made from Iridized Plum Opalescent glass. The rich color sparkles splendidly in this unique piece of art glass. The two handles are created by a special pressing process before being re-shaped by Fenton artisans.
Fenton recently acquired the mould for this piece from Indiana Glass. However, the mould was originally produced by the Westmoreland Glass Company in the 1950s. A design of Dogwood tree blossoms was meticulously etched into the mould of this attractive piece.
4" Plum Opalescent Dogwood Basket ($49.50 U.S.)
To see if an event is coming to a city near you simply click on the Fenton Family Member's name or search by State Postal Abbreviation below.
AL - AK - AZ - AR - CA - CO - CT - DE - DC - FL - GA - HI - ID
IL - IN - IA - KS - KY - LA - ME - MD - MA - MI - MN - MS - MO - MT - NE
NV - NH - NJ - NM - NY - NC - ND - OH - OK - OR - PA - RI - SC - SD
TN - TX - UT - VT - VA - WA - WV - WI - WY
---
• To shop for Fenton Gift Shop Exclusives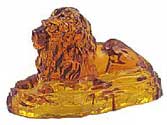 Stately and regal is the only way to describe this magnificent Autumn Gold Lion. Produced as a 2006 Gift Shop Exclusive for our Collectors from this rarely used mould, this piece will surely be sought after for years to come. Don't miss your chance to add this to your collection, production is strictly limited to 2006. Measures 3" high by 5" long.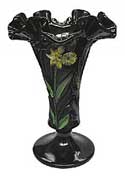 This Daffodil Vase in classic black glass has been enhanced to accent the embossed daffodil pattern. Produced as a Gift Shop Exclusive and proudly made by the artisans at Fenton.
• To buy the 7-1/2" Fenton Gift Shop Daffodil Black Glass Vase
---

At a Fenton Art Glass Open House, you will truly experience Fenton. Tour the Fenton factory on video, meet and learn more about Fenton glass from a Fenton Sales Representative and enjoy the opportunity to purchase exclusive pieces handcrafted in America and only available at Rep Events.
3 1/2" Chocolate glass elephant, inscribed with Scott Fenton's signature ($29.50 U.S.)
To see if an event is coming to a city near you simply search by State Postal Abbreviation below.
AL - AK - AZ - AR - CA - CO - CT - DE - DC - FL - GA - HI - ID
IL - IN - IA - KS - KY - LA - ME - MD - MA - MI - MN - MS - MO - MT
NE - NV - NH - NJ - NM - NY - NC - ND - OH - OK - OR - PA - RI - SC
SD - TN - TX - UT - VT - VA - WA - WV - WI - WY
---
Everything is discounted in the Fenton Clearance Corner. All first quality items. New items added weekly! shop now

Original price $35.00 now $21.00

Fenton produced Stretch glass from 1917 through the 1920s in the glamorous and elegant art deco style, and these pieces are treasured today as timeless classics. The intense glow of Fenton's furnaces is captured forever in the iridescence and luster all inherent in the magic of Ruby Amberina Stretch glass.

---

For a closer look at Fenton Glass, visit an authorized Fenton dealer today. To find a dealer near you, click here