Prestigious and so Collectible!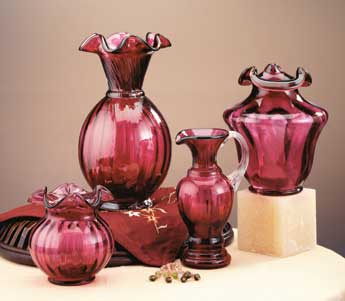 New processes developed by Fenton chemists use pure gold to impart a deep, rich color. We have more Cranberry than ever, now available at competitive prices. From stately tall vases to adorable pitchers...from simple,

clean lines to delicate patterns...this new grouping has something for everyone who loves Fenton Cranberry glass.
• To buy the 9 1/4" Cranberry Vase
• To buy the 4 1/2" Cranberry Vase
• To buy the 6" Cranberry Pitcher
• To buy the 6 1/2" Cranberry Vase
• To buy the 11" Cranberry Vase (right)
• To browse all of the new Cranberry items
---
New Sample Room Items this Week...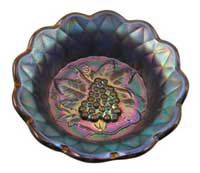 Favrene Grape Nappy

This 5-3/4" d. Grape nappy was made about 1973-74 when we were working with trial batches of our Favrene glass. The pattern interior has a fine matte finish, and the exterior has a nice luster. This piece was found in Frank's Closet.
What is Frank's Closet?
The late Frank M. Fenton had a storage area that contained special Fenton items that he would offer to the most avid Fenton collectors from time to time. Some collector's have visited this special place and brag about their visit every chance they get. Pieces in Frank's closet range from thousands of pieces from our history, to special colors and interesting shapes, to items that were never actually produced for our catalogs.
Frank's closet continues to be a great source of ideas for Fenton Art Glass. We're very careful about releasing these items but Frank liked to from time to time.
We're excited to keep Frank's tradition by offering a few pieces in the Sample Room.
---
Experience the tradition of our Annual Gift Shop Labor Day Sale and Family Signing Events... September 1st - 4th

It may be the dog days of summer to some but at Fenton Gift Shop it's the cat's meow!

Join us now through Labor Day Weekend for our first-ever Fenton Adopt-a-Thon... benefiting our local Mid-Ohio Valley Humane Societies! The Gift Shop will donate 5% of all Fenton animal figurine sales through Monday, September 4 to our Wood and Washington County shelters... along with all pet supply donations brought to the shop!
Don't delay...adopt your pet today. When you purchase any Fenton animal figurine featuring a Red Paw Print...you'll be helping to make a big difference in the lives of our Valley's furry friends. Two special pieces are featured below, our Opal Satin Labor Day Cat and Periwinkle Blue Patriotic Pup.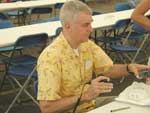 Labor Day Weekend is the perfect opportunity to collect signed and dated heirlooms your family will treasure for years to come. Third and fourth generation members of the family will be on hand to sign five of your first-quality purchases and two Fenton favorites from home. And don't miss the chance to purchase our 2006 exclusive signing event piece...a stunning 4" Iridized Plum Opalescent basket made with pure gold!
Friday, Sept. 1st Lynn Fenton Erb • 11am - 2pm
Saturday, Sept. 2nd Chris Fenton • 11am - 2pm
Sunday, Sept. 3rd Mike Fenton • 1pm - 4pm
Monday, Sept. 4th (Labor Day) Randy Fenton • 11am - 2pm
• For more information about the Fenton Gift Shop Labor Day Sale and to print out a special Labor Day Coupon click here
• To shop for Fenton Gift Shop Exclusives
---

Our charming Periwinkle Pup is proudly showing his American Pride wearing a patriotic bandana. This Gift Shop Exclusive has been handcrafted in an historic color rarely made by Fenton and signed with pride by the artist who completes each piece. To buy the 4" Fenton Gift Shop Periwinkle Blue Patriotic Pup

Don't miss adding this Gift Shop Exclusive Patriotic Cat to your collection just released for "Labor Day" and the third in a series of four. White opal satin glass, handpainted and signed by the artist in a star spangled design will sure to be sought after for years to come. To buy the 3 3/4" Fenton Gift Shop Exclusive Patriotic Labor Day Cat

A Fenton Gift Shop Exclusive...
With crystal glass as his canvas, Dave Fetty has created sinuous, asymmetrical pulled feathers in ruby and amethyst and fashioned an amethyst handle. This pitcher stands 6-1/2" tall and bears Dave's special stamp as well as his personal signature. To buy the 6 1/2" Dave Fetty Pulled Feathers Pitcher
---
Looking for a unique way to raise money for your school or civic organization?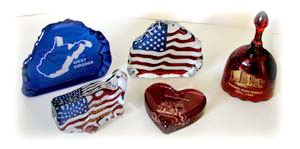 Let Fenton Art Glass help you with your fundraising, awards and personalized gifts...
Fenton Art Glass offers a variety of hand made items that can be customized for your organization or event. Start by choosing a piece of quality Fenton made glassware such as bells, paperweights, icebergs, or trophies. Then, send us your company or organization logo, award recipient's name, event date, etc. We will hand-carve the items of your choice with the black and white artwork that you provide. Additionally, you can choose from the traditional elegance of the plain sandcarved glass or fill the carving with a bit of color to accentuate your design.
Many of our customers have found such success with our sandcarved glassware, that they have developed continuity programs, offering their customers a series of hand-carved bells or paperweights. The beauty and fine quality of Fenton glassware also brings prestige to award presentations year after year.
To view our online catalog and some examples of sandcarving...
Contact Us
For more information contact our Special Orders office at specialorders@fentonartglass.com or 304-375-6122. One of our Special Markets Representatives will be happy to work with you to determine the best item for your organization/event as well as how you would like it to be sandcarved.
---
Everything is discounted in the Fenton Clearance Corner. All first quality items. New items added weekly! shop now

Original price $49.50 now $32.00 Dreamy Blue Topaz glass floats over Cloud White glass to create this beautiful Blue Topaz Overlay Pitcher. Handcrafted with pride by the artisans at Fenton.

---

For a closer look at Fenton Glass, visit an authorized Fenton dealer today. To find a dealer near you, click here