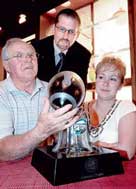 Glass blower Dave Fetty positions the glass football that he made on top of the glass pedestal at Fenton Art Glass in Williamstown. Rick Mogielski, standing, designed the trophy. Stacy Williams of Fenton Art Glass painted the logo on the vase.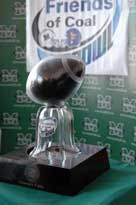 The Friends of Coal Bowl championship trophy goes to the winner of what will soon become the annual West Virginia-Marshall showdown.

Some hefty stakes - Friends of Coal Bowl championship trophy unveiled in Huntington (story)

Friends of Coal Bowl trophy features West Virginia materials, artisans (story)

Coal Bowl trophy an all-state effort (story)
August 23, 2006
by JACK BOGACZYK, Charleston Daily Mail, Charleston, WV

The Friends of Coal wanted "unique" to be the best way to describe the momentous memento being created for the resumption of the West Virginia-Marshall football series.
Well, the trophy designed and painstakingly manufactured for the Mountain State rivalry fits Webster's definition -- single, having no like or equal.
There's only one of them . . . so no one had better drop it.
It's called the Governor's Trophy, etched with the seal of the state's top executive, and it goes to the winner of the Sept. 2 game at Mountaineer Field. It speaks of the game's sponsor and the state's natural resources, craftsmen and artisans.
It stands nearly 2 feet, weighs about 60 pounds, and is made of crystal glass and coal, sitting on a carbon base. A hand-blown crystal football (nearly regulation size), intricately etched with laces and stripes, holds 5 gallons of pulverized coal.
"The trophy is made of probably 98 percent West Virginia materials," said Rick Mogielski, the trophy's designer. "From the start, we wanted to use materials from the state and West Virginia artisans as much as possible. The work was 100 percent done by West Virginians.

"After our first meeting, we felt like the game and industry deserved something unique, something somewhat elegant. It's a big game; glass makes the trophy more elegant.

"We kept coming back to coal-filled glass. We really didn't know if it would work."

The Governor's Trophy was to be reviewed by Gov. Joe Manchin this morning at the State Capitol, then taken to Huntington and an 11:30 a.m. unveiling in the Big Green Room at Edwards Stadium on the Marshall campus. (complete story)