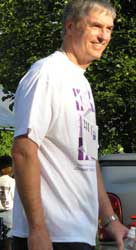 George Fenton at the 2006 Relay for Life in Williamstown.
---

Fenton Glass "Happy Daffy" Walking Shoe
($34.99 U.S.)
Show your support and help us raise money by purchasing the Fenton "Happy Daffy" Walking Shoe. We will continue to sell the shoes until August 31.
Employees of Fenton Art Glass participated in the American Cancer Society's Relay for Life, August 11 and 12 in Williamstown, WV.
The Fenton Team consisted of more than 20 participants. Fenton employees included Connie Mayle (Team Co-Captain), Pam Dick (Team Co-Captain), Ron Dick, Charla Nutter, Suzi Whitaker, Nancy Bobbitt, George Fenton, Nancy Fenton, Mike Fenton, Lynn Fenton Erb, Kim Mayer, Mel Blankenship, Chris Benson, Mike Mumaugh and Fenton retiree, Howard Seufer. The team also included employees from the Fenton Gift Shop, Jena Blair, Jennifer Minehart, Amy Patterson, Marcie Petty, Kerri Griffith, Karen Feltenberger and Brittany Feltenberger.
In addition to walking, the Fenton team had a Dime Toss Fundraiser and Fenton Glass Bingo during the Relay.
Relay For Life is a community-based event designed to celebrate survivorship and raise money for the American Cancer Society. On the day of the event, teams of people gather at school or community football fields, fairgrounds or parks and take turns walking, jogging or running laps. Each team is asked to keep at least one person from their team on the track at all times.
This was Fenton's first year in participating in the event. So far the Fenton team has raised $1,596.