The Next QVC Show is Saturday, August 26
---
Functional Fenton at its finest...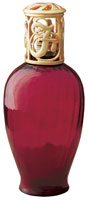 La-Tee-Da Effusion Lamps now available online!
Fenton has teamed up with La-Tee-Da to produce an awesome collection of effusion lamps! An absolute delight to the senses!
Attractively displayed in the Fenton Gift Shop and now available online at www.fentonartglass.com/lateeda.
This brand new collection showcases eight unique lamps all topped with the Fenton trademark symbol synonymous of quality
handmade art glass.
Just follow the simple instructions included with each gift set, then sit back, relax and enjoy a fragrance delivery system like nothing you've ever experienced. Fenton La-Tee effusion lamps will keep your heart and home refreshed for many years to come

La-Tee-Da effusion lamps economically release fragrance without a continuous flame. It works at approximately 1/3 the temperature of a candle, by pulling the fragrance up through the wick to the burner. The burner releases the fragrance and will saturate a room more quickly and consistently than other fragrance products. It typically takes about 45 minutes to fragrance the average size home.
• To shop for Fenton La-Tee-Da Effusion Lamps
---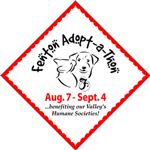 It may be the dog days of summer to some but at Fenton Gift Shop it's the cat's meow! Join us now through Labor Day Weekend for our first-ever Fenton Adopt-a-Thon...benefiting our local Mid-Ohio Valley Humane Societies!
Fenton Gift Shop will donate 5% of all Fenton animal figurine sales (online and in-store) through Monday, September 4 to our Wood and Washington County shelters - along with all animal donations brought to the shop!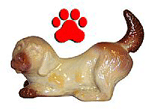 Don't delay...adopt your pet today. When you purchase any Fenton animal figurine featuring a red paw print ... you'll be helping to make a big difference in the lives of our Valley's furry friends.
Thinking about visiting Fenton for our Labor Day Sale and Family Signing Events? Great...
Even better yet...Drop off a donation during your Williamstown visit (pet food, kitty litter, toys, leash, etc.) and receive a special Fenton Gift Shop coupon!
---
New Sample Room Items this Week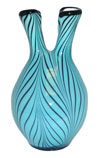 Dave Fetty Two Horned Vase
No one knows quite how master glass craftsman Dave Fetty creates such apiece as this 11" tall vase, and he won't tell! The interior is Milk Glass; the pulled feather technique is executed with amethyst glass and the outer layer is a beautiful blue. This one-of-a-kind piece is signed by Dave and dated "05".
bid now (eBay)
• To bid on items from the new Fenton sample room
---
• To shop for Fenton Gift Shop Exclusives
Our charming little Ruby Mouse is proudly wearing his American Pride with his star spangled vest and matching star in his ear. This Gift Shop Exclusive is signed with pride by the artist. To buy the 3" Fenton Gift Shop Ruby Patriotic Mouse



The Swan in Chocolate glass enhances the grace and beauty of this piece. Produced as a new Gift Shop Exclusive, it bears the FGS 2006 Exclusive Logo on the bottom. Each piece is unique in coloration due to the swirls in this beautiful glass. To buy the 4" Fenton Gift Shop Chocolate Swan
---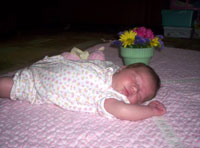 Meet the Littlest Fenton...Baby Ava
Mike Fenton and his wife, Kathy, have three grandchildren, Isaiah, Mason and their newest arrival, baby Ava.
Ava is from the Fenton family's fifth generation!
---
The Fenton Art Glass Collectors of America had their 30th annual convention August 1-4, at the Holiday Inn in Parkersburg, WV. There were wonderful glass displays plus a special factory tour and glass sale. They had seminars with club members as well as Fenton family members and employees.

For more information, contact

the F.A.G.C.A. office at

304-375-6196.

8-year old Maria Coyle of Ohio shows off her newest piece of Fenton at the F.A.G.C.A. convention.
---
| | |
| --- | --- |
| | Everything is discounted in the Fenton Clearance Corner. All first quality items. New items added weekly! shop now |