The Next QVC Show is Saturday, August 26
---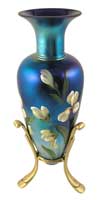 Fenton Favrene Amphora Vase on fentonartglass.com today at Noon ET
Shimmering tones of pure silver in the batch allow Favrene glass to project a rainbow of color. Favrene glass is made with silver that is coaxed to the surface in a special reheating process. When sprayed with metallic salts it develops a silvery-blue satin luster. Frances Burton's floral motif complements the brilliance of this remarkable and popular glass color. Limited to only 75 pieces, the 14-1/2" Favrene Amphora Vase will only be available at fentonartglass.com. Each piece is individually numbered and signed by the artist. Stand is included.
To buy today, starting at Noon ET, click here.
---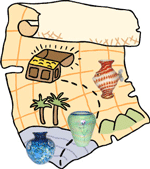 Fenton Treasures await you in a Collector's Paradise...
THE FENTON SAMPLE ROOM
Fenton collectors regularly talk about a place at Fenton where you can find rare, one-of-a-kind items. From unique Dave Fetty to Cameo to Favrene, our Sample Room is nothing short of a Collector's Paradise.
New items can be previewed each Wednesday at Noon ET. Items will be available for sale on Thursdays at Noon ET.
• To buy items from the new Fenton sample room
---
It's Truly a Vision to Behold!
The regal look of our newest color, Aubergine, is just right for today's styles in home decor. Rich purple tones add a note of elegance to any room. Since its introduction in early 2006, Aubergine has quickly emerged as a new favorite color among many of those who love Fenton glass.
Designer Stacy Williams used multiple layers of sheer color to develop remarkable shading in this simple, yet elegant handpainted motif. Silky leaves float in a soft breeze, and a pink Kousa dogwood pod adds a decidedly striking touch.
Click on the Aubergine item below and you will be taken to the item's detail page where you will be able to learn more about it and add it to your shopping cart.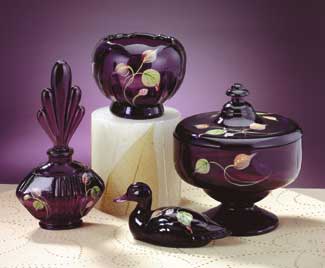 • To buy the 7" Vision on Aubergine Perfume
• To buy the 3 1/2" Vision on Aubergine Rose Bowl
• To buy the 5" Vision on Aubergine Mallard
• To buy the 6" Vision on Aubergine Candy Box
---
Fenton Gift Shop Hobnail Exclusives
• To shop for Fenton Gift Shop Exclusives



This striking Cobalt Iridized Hobnail mini "spittoon" is perfect for every Hobnail fancier. The deep shade of Cobalt glass is sprayed with metallic salts while the glass is still hot. As the spray is applied, a rainbow of rich color emerges.

• To buy the 3" Fenton Gift Shop Cobalt Iridized Hobnail Mini Spittoon



Our ever popular Fenton Hobnail with an Iridized Plum Opal treatment was made into this lovely vase with a four leaf clover crimp. This unique color Plum Opalescent Iridized is a collectors favorite and sure to be sought after for many years to come.
• To buy the 7 1/2" Fenton Gift Shop Plum Opalescent Iridized Hobnail Vase
---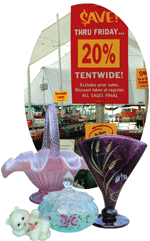 Annual Big Top Savings... A Fun Summertime Hit with Everyone!
Make plans now to attend Fenton's Annual Tent Sale, June 23 to August 6. It's a once-a-year opportunity to shop under the Big Top for a wide variety of handcrafted Fenton at prices that just keep getting better!
Save an additional 30% on everything under the tent starting July 22. Make plans now to attend this once-a-year opportunity to shop under the Big Top for a wide variety of handcrafted Fenton at prices that just keep getting better! more information
---
Everything is discounted in the Fenton Clearance Corner. All first quality items. New items added weekly! shop now

New this week in the Clearance Corner...

10'' dia. Aquamarine Opalescent Leaf Bowl

Original Price $75.00 now $52.50 Introducing the velvety opalescence of Aquamarine Opalescent glass. The effect is simply breathtaking, and these pieces will coordinate beautifully with our Aqua Opalescent Marigold. (Candle not included) buy now

Original Price $43.50 now $30.45 Special keepsakes celebrate the love between mother and child, a bond like no other. Remembering such moments, sculptor Suzi Whitaker designed a new Treasure Box in the form of a playful cat perched upon an ottoman, ready to play. Designer Stacy Williams continues the fun as she decorated the ottoman in calico and beribboned the orange tiger cat. Cute yet functional, the cat's tail serves as a ringholder while the ottoman stores tiny treasures. Specially priced to satisfy every budget. Delightful to give or to own. buy now