The 2007 Connoisseur Collection by Fenton
Penguins On Ebony Favrene Sandcarved Temple Jar

Connoisseur Collection ''Penguins'' on Ebony Favrene Temple Jar, designed by Kim Barley. One of our newest glass color treatments comes alive with whimsical Penguins created by meticulous sandcarving of the glass. The artist's design must be adapted to the curved surface of the glass, and the processes of masking and sandcarving are both time-consuming and expensive. Limit:1500
• To buy the 6'' Penguins On Ebony Favrene Sandcarved Temple Jar
Paisley Mystery Aubergine Satin Handpainted Vase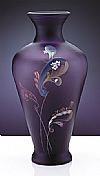 Connoisseur Collection ''Paisley Mystery'' Vase, designed by Frances Burton. Satin-finished Aubergine glass is the perfect canvas for Frances' adaptation of Paisley, one of today's strongest decorating trends. Traditional colors and intricate details blend beautifully with metallic touches, adding authenticity. Note the delicate flowers within the larger Paisley forms. Limit: 1500
• To buy the 13'' Paisley Mystery Aubergine Satin Handpainted Vase
Floral Cameo Blue Burmese Handpainted Ewer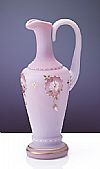 Connoisseur Collection ''Floral Cameo'' on Blue Burmese, designed by Robin Spindler. This graceful ewer with an applied ribbed handle reflects the classic proportions of the Greco-Roman tradition. Robin's highly-detailed floral motif contains tiny raised pearls of enamel to create the look of a cameo. Accents in 22k gold add the finishing touches to this piece. Limit: 1500
• To buy the 8 1/2'' Floral Cameo Blue Burmese Handpainted Ewer
Spring Sunshine Burmese Satin Handpainted Lam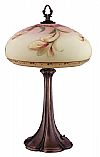 Connoisseur Collection ''Spring Sunshine'' on Burmese Lamp, designed by Stacy Williams. This gently rounded shade is made with classic Fenton Burmese glass. Pure gold in the formula creates the pink blush. Stacy's stylized floral motif sweeps over the surface and is layered with a sheer gold veil. An antique-style border completes this elegant design. Limit: 750
• To buy the 19'' Spring Sunshine Burmese Satin Handpainted Lamp
---
An absolute delight to the senses . . .
Fenton La-Tee-Da! Effusion Lamps!
Fenton has teamed up with La-Tee-Da! to produce an awesome collection of effusion lamps! An absolute delight to the senses!
Attractively displayed at participating Fenton dealers and now available online from Fenton Art Glass.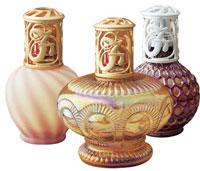 This brand new collection showcases eight unique lamps all topped with the Fenton trademark symbol synonymous of quality handmade art glass.
Just follow the simple instructions included with each gift set, then sit back, relax and enjoy a fragrance delivery system like nothing you've ever experienced. Fenton La-Tee-Da! effusion lamps will keep your heart and home refreshed for many years to come.

La-Tee-Da! effusion lamps economically release fragrance without a continuous flame. It works at approximately 1/3 the temperature of a candle, by pulling the fragrance up through the wick to the burner. The burner releases the fragrance and will saturate a room more quickly and consistently than other fragrance products. It typically takes about 45 minutes to fragrance the average size home.
• To shop for Fenton La-Tee-Da Effusion Lamps
---
Exclusively from QVC.com!
Fenton Art Glass Sky Blue Butterfly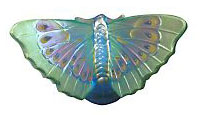 Item Number C111636
QVC Price $39.50
Clearly a find for your collection, this butterfly is handcrafted of translucent sky blue glass. The handpainted wings feature metallic touches of green, aqua, and purple. Crafted with pride by the skilled glass masters of Fenton. Handcrafted of sky blue glass Limited Edition of 200; individually numbered. Designed by Robin Spindler.
Handsigned by the artist who painted it. Includes a Shelley's Keepsakes card. (3-1/2"h x 4" w x 2-3/4" d)
• To buy today, go to QVC.com and search for the item number.
---
Here's a Piece of Fenton Glass That Will Make You Stand Tall and Salute!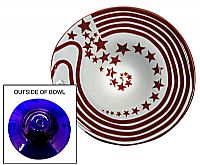 Master glass craftsman Dave Fetty combined three glass colors (blue, white and red) in separate layers to produce an exquisite flared bowl (9-1/2" d.). Then, the talented artists in Fenton's sandcarving area took over, creating an elaborate stars and stripes motif on the interior. This piece is a true "one-of-a-kind" from Fenton Art Glass, and it really makes a statement about the pride and patriotism of all of us! (Has Dave Fetty's backstamp) Only 23 made!
• To buy the 9-1/2" d. Dave Fetty Stars and Stripes Bowl
• To shop for Dave Fetty Exclusives
---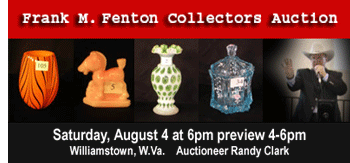 Auctioneer Randy Clark and his staff will offer glassware from the estate of Frank M. Fenton to the highest bidder in this no reserve auction.
Auction will be held under a large tent in parking lot next to the Fenton Art Glass Factory in Williamstown W.Va. during the Fenton Festival of Glassmaking.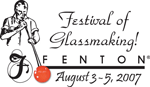 275 lots will be auctioned including many rarities, including Barber pieces. Also many handpainted items will be auctioned, including Louise Piper, Martha Reynolds, and others.
Auction starts at 6pm with a preview from 4-6pm.
• To view items from the special Frank M. Fenton Auction
---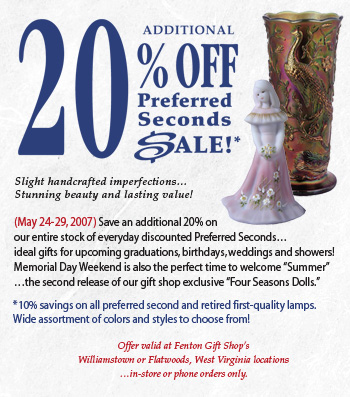 For details, go to www.fentongiftshop.com/memorialday
---
Fenton Gift Shop Exclusives...
To shop online for Fenton Gift Shop Exclusives, click here
---
Everything is discounted in the Fenton Clearance Corner. All first quality items. New items added weekly! shop now

Original price $95.00 now $71.25 This 8" Trumpet Vase was designed by Fenton's very own J. K. "Robin" Spindler. Her design of red bittersweet berries against Autumn Gold create a perfect blend of color!

Original price $94.50 now $61.25 Bold and beautiful! This large Aubergine Fan vase will be a stunning accent for your home. Handcrafted with price by the artisans at Fenton.