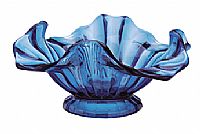 New Blue!
Our Indigo Blue is a natural, deep blue with a lively personality. This color has global appeal, as beautiful handmade fabrics in this hue can be see worldwide.
The Panel Pitcher is representative of the numerous colonial-style tableware designs made by various American glass manufacturers in the 1920s and 1930s. These were designed for function, and many families used them daily.

Designer Kim Barley describes herself as a "person who loves the water," and her fondness for representing nature with a fanciful touch can be seen in her handpainted Tranquil Sea decoration on Indigo Blue. Gold and blue tones blend well on the fish Kim has depicted, and those "bubbles" add a note of whimsy.

Blossoms on cherry trees are among the very first signs of Spring. You can almost smell the scent on Kim's handpainted Cherry Blossoms on Indigo Blue. Kim's depiction reflects the simplicity of Asian style.
• To buy the 12" Indigo Blue Ribbed Bowl
• To buy the 4" Indigo Blue Dolphin
• To buy the 5-1/4" Tranquil Sea on Indigo Blue Paneled Pitcher
---
Functional Fenton at its finest...
La-Tee-Da Effusion Lamps now available online!
Fenton has teamed up with La-Tee-Da to produce an awesome collection of effusion lamps! An absolute delight to the senses!
Attractively displayed in the Fenton Gift Shop and now available online from Fenton Art Glass.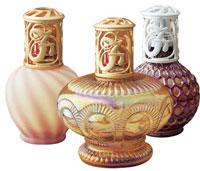 This brand new collection showcases eight unique lamps all topped with the Fenton trademark symbol synonymous of quality handmade art glass.
Just follow the simple instructions included with each gift set, then sit back, relax and enjoy a fragrance delivery system like nothing you've ever experienced. Fenton La-Tee effusion lamps will keep your heart and home refreshed for many years to come.

La-Tee-Da effusion lamps economically release fragrance without a continuous flame. It works at approximately 1/3 the temperature of a candle, by pulling the fragrance up through the wick to the burner. The burner releases the fragrance and will saturate a room more quickly and consistently than other fragrance products. It typically takes about 45 minutes to fragrance the average size home.
• To shop for Fenton La-Tee-Da Effusion Lamps
La-Tee-Da Six Shooter Fragrance Sampler Pack

Add to the versatility of your La-Tee-Da effusion lamp with this special La-Tee-Da "Six Shooter" sampler pack. Contains six 4 oz. bottles, one each of these scents; Footprints in the Sand (Ocean Shore), Idyllic Refuge (Cinnamon Apple), Monogrammed Linens (Lavender), Perfectly Pomegranate (Pomegranate), Sheer Paradise (Sugared Citrus), and Stay Awhile (Tropical Vanilla).
• To buy the La-Tee-Da Six Shooter Sampler Pack
---
Exclusively from QVC.com!
Fenton Art Glass Milk Glass Love Bird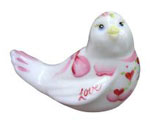 Item Number C111558
QVC Price $33.93
Your collection is sure to take flight with this glass love bird from Fenton. She's constructed of crisp white milk glass and wears a handpainted dress with red and pink hearts and flowers. A wreath sits atop her head, and the word "Love" is written on her wing. Designed by Kim Barley. Limited Edition of 300. Individually numbered. Handsigned by the artist who painted it. Includes a Shelley's Keepsakes card. (3-1/2"h x 3-3/4"l x 2-1/4"w)
• To buy today, go to QVC.com and search for the item number.
---
Hop in and Shop ... Fenton's Spring Savings Spree Getaway!
Enjoy a Hop in and Shop getaway! Sparkling rivers, creative activities and shopping ... it's springtime and Fenton Gift Shop's first ever Spring Savings Spree.
Available March 23 through April 1, 2007
Enjoy overnight accommodations, breakfast and lunch.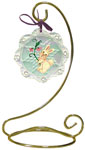 Visit the Fenton Gift Shop and their first-ever Spring Savings Spree. It's the perfect time to stock up on great all-occasion gifts with fantastic once-a-year 50% savings on "retired" first-quality Fenton ... 30% off QVC items and select limited-numbered first-quality Fenton ... 20% off all first-quality samples ... and as always, up to 50% off a fine selection of preferred seconds.
Other collectible offerings throughout the week include the release of the first in a series of "Four Seasons" Blue Burmese Dolls ... Susan Bryan Gift Shop Exclusives ... a Dave Fetty "Hanging Hearts" egg and a silent auction drawing featuring two of Kelsey Murphy's unique sandcarved creations.
• Decorate your own Fenton sun catcher. Our charming spring and seasonal designs will make your window festive for years to come.
• Experience the Fenton factory tour. Owning a piece of Fenton Art Glass is a delight, but watching it made during their guided factory tour is an outright thrill! Fenton ... where glassmaking comes to life!
• Explore the Fenton Museum, home to over a century of beautiful glass history.
• Enjoy a delicious lunch at one of the charming restaurants.
• Don't forget the camera!
Contact hotels below for rates & availability
Available March 23 through April 1, 2007
(1 night based on double occupancy)
Days Inn: 1 -866-342-4041 www.marietta-parkersburgdaysinn.com
Lafayette Hotel: 1-800-331-9336 www.lafayettehotel.com
Comfort Suite: www.comfortsuitesmineralwellswv.com
Comfort Inn Marietta: jdixon@chrco.com
Baymont Inn & Suite: 304-424-5300
---
Fenton Gift Shop Exclusives...
To shop online for Fenton Gift Shop Exclusives, click here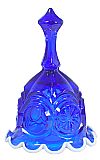 Cobalt Blue Bell with Milk Glass Ring
Appealing to the eye, pleasing to the ear, delightful to decorate with and enjoy - that's the beauty of this large 6 1/2" Cobalt Blue bell with a Milk Glass ring. Handcrafted with care by the artisans of Fenton.
---
Everything is discounted in the Fenton Clearance Corner. All first quality items. New items added weekly! shop now

Original price $27.50 now $17.75 Appealing to the eye, pleasing to the ear, delightful to decorate with and enjoy - that's the beauty of bells. This Willow Green diamond optic bell was handcrafted with care by the artisans of Fenton.

• To buy the 6-1/2" Willow Green Bell

Handpainted Hummingbird Autumn Gold Rose Bowl

Original price $50.00 now $37.50 The honeyed shades of Autumn Gold glass is perfect for decorating. This beautiful Rose Bowl has been handpainted with a quaint little hummingbird along with a vining floral motif.

• To buy the 3-1/2" Handpainted Hummingbird Autumn Gold Rose Bowl