Hop into Spring with these Burmese bunnies!
A spectacular group of Fenton bunnies, ready to hop into Spring! Stacy Williams created vivid poppies with bright yellow centers, and she used metallic paints to embellish elements of interest on each piece.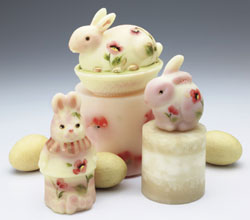 • 4 1/2'' Burmese Handpainted Spring Finery Bunny Box
• 5'' Burmese Handpainted Spring Finery Standing Bunny Box
• 3'' Burmese Handpainted Spring Finery Bunny
• 7'' Burmese Handpainted Spring Finery Bunny Box (not pictured)
---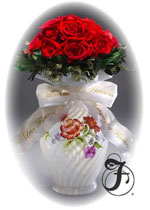 Express your "Love" to a very special person.
The Ultimate "Language of Flowers" Gift...the exclusive "Fenton Art Glass" French opalescent vase with hand-painted "Love Flowers" filled with beautiful long lasting red roses & myrtle, the classic "Love Flowers". LanguageOfFlowers.com is your source for authentic flower sentiments, gifts and flowers.

• To buy the Fenton Art Glass French Opalescent Vase from LanguageOfFlowers.com
---
Exclusively from QVC.com!
Fenton Art Glass White Opal Bunny Figurine
Item Number C2376
QVC Price $32.50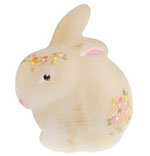 There's no resisting the not-so-subtle charms of this Fenton art glass white opal bunny figurine. Handcrafted of white opal glass that's sanded for a smooth finish, the little fellow is blushed with warm beige and sponged to look soft. Handpainted floral patterns and a coral heart nose add the finishing touches. Crafted with pride by the skilled glass masters of Fenton. Measures 3" high. Handsigned by the artist who painted it.
• To buy today, go to QVC.com and search for the item number.
---
In the Fenton Sample Room this week
1970s SAMPLE Favrene Water Lily Pattern Rose Bowl
Bid Now (eBay)

The iridescence on this SAMPLE Favrene Water Lily pattern rose bowl (3-1/4" tall) is simply out of this world! The Water Lily pattern was designed by our Tony Rosena in the 1970s. This rose bowl lacks the Fenton logo, so we've had it personally signed by Shelley Fenton.
To Visit the Fenton Sample Room
---
Fenton Gift Shop's Spring Savings Spree...Now thru Sunday, April 1st!
Spring is in the air in the Mid-Ohio Valley! With temperatures rising and prices dropping...avid collectors won't want to miss Fenton Gift Shop's first ever Spring Savings Spree! It's the ideal time to head to Williamstown, West Virginia to enjoy 20% savings on all First-Quality Samples...30% off a wide assortment of QVC items and Limited Editions and 50% off Retired First-Quality Fenton!
Also don't miss out on our Dave Fetty "Hanging Hearts" Egg and other unique Fenton Gift Shop Exclusives made for this event!
Speaking of "unique"...Collectors worldwide have come to appreciate pieces sandcarved by Robert Bomkamp and Kelsey Murphy. And even though our auction is silent...word is spreading fast of the "online opportunity" to purchase three of Kelsey's creations!
We hope to see you soon and invite you to "Hop in and Shop...Fenton's Spring Savings Spree Getaway." However if you can't make it to Williamstown...we're passing some spring savings onto you...but hurry, offer ends April Fool's Day!
• For more information about our Spring Savings Spree (March 23 - April 1) please call 1-800-319-7793 (x383) or (x327) or email us at: service@fentongiftshop.com or go to www.fentongiftshop.com.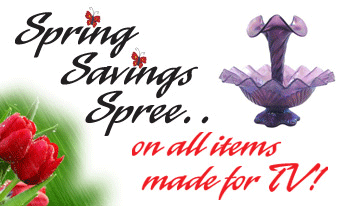 • To shop for items "Made for TV"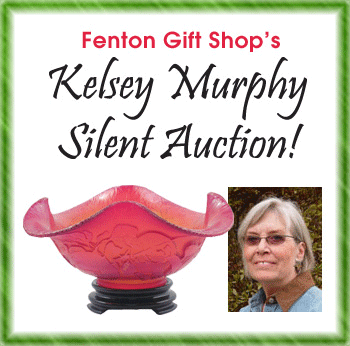 • Te see items from the Kelsey Murphy Silent Auction
---
Fenton Gift Shop Chocolate Exclusives...
To shop online for Fenton Gift Shop Exclusives, click here
---
Everything is discounted in the Fenton Clearance Corner. All first quality items. New items added weekly! shop now

Original Price $32.50 Now $24.50 This Georgian style Mini Basket in Ice Blue Satin glass is a hallmark of Fenton tradition. Hand applied ribbons of glass with the signature handler's mark is stamped into each end of the handle.

• To buy the 4-1/2" Fenton Gift Shop Ice Blue Mini Basket

---

New! Fenton Memory Game

This is our version of the classic memory game concentration.
Uncover all the blocks by successfully matching the image pairs.

• Click here to play the Fenton Memory Game