St. Patrick's Day is Saturday, March 17
Watch your email for a special Fenton Holiday Greeting!
---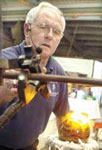 Innovative and Contemporary Glass Designs by Fenton Artist

Dave Fetty
Monet's Garden
A bold new direction for Dave Fetty, our team of talented artisans has revived hot glass decorative methods from the distant past and developed and mastered new techniques all their own. Each of these dramatic vases will be embossed with the personal stamp of Dave Fetty. An innovative technique captures the French Impressionist in today's art glass. An inner layer of light green glass is covered with Milk Glass and rolled through different colors of finely crushed glass. When the vase is reheated, gold ruby glass develops into random pink ''flowers'' that are sure to delight. A perfect addition to the Studio Collection.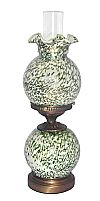 Limit: 950.
• To buy the 7" Dave Fetty Monet's Garden Frit Covered Milk Glass Vase
Aventurine Green Lamp
Made by Fenton glass artisan Dave Fetty, this interesting 18" tall double-ball lamp features Milk Glass with a unique treatment of Aventurine Green frit and an iridescent finish! This lamp is personally signed "Dave Fetty '06" inside the top shade.
• To buy the 18" Dave Fetty Aventurine Green Lamp

Feathers Vase
Master glass artisan Dave Fetty unveils his latest innovation! Using pure Milk Glass, he has developed an entirely new technique to "feather" rich glass color combinations into the surface. We call it Feathers and think it will really tickle Dave's many fans! Limited to 850 numbered pieces and embossed with Dave's personal stamp.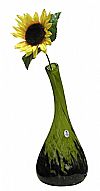 • To buy the 7" Dave Fetty Feathers Vase
Green and Brown Gourd Vase
Fenton glass artisan Dave Fetty's "Gourd" vase features a subtle bubble optic combined with green and brown frit for a spectacular look. Each vase is personally signed by Dave and dated "06." Limited to 150 individually numbered pieces, and only a few remain!
Flower not included.
• To buy the 12" Dave Fetty Green and Brown Gourd Vase
---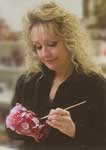 Emerald Green Mary Gregory Designs by Fenton Artist
Four Seasons "Kitty Ride" Emerald Green Bell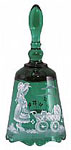 Fenton celebrates nature's rhythms and the changes brought by the seasons with four delightful bells. The vivid glass complements to our team's Mary Gregory-style decorations...sure to please one and all! This piece was designed by Kim Barley.
• To buy the 6-1/2" Four Seasons Kitty Ride Emerald Green Bell
Four Seasons Emerald Green Handpainted Pitcher

Four Seasons Mary Gregory Pitchers - Our quartet of talented decorating designers has done it again! Pitchers for all seasons! Four outstanding examples of a contemporary collector's classic Gregory-style handpainting on vivid Fenton glass colors. The mould for this pitcher originated at the Fostoria Glass Co. in Moundsville, West Virginia, about 70 years ago, and this is the first time we have used it since it was recently acquired from the Indiana Glass Co.''First Recital'' Spring Emerald, Green Pitcher was designed by Kim Barley.
• To buy the 4-1/4" Mary Gregory Style Emerald Green Handpainted Pitcher
Four Seasons "Cat's Cradle" Spring Fairy Light

Mary Gregory for every season! Our most popular decorating style continues, celebrating children as they enjoy seasonal activities, each captured forever by the artisans of Fenton. Fairy Lights, a most collectible form of glass, have been popular since the Victorian era and are ideally suited to highlight the difficult yet delicate Mary Gregory style. Spring Fairy Light designed by Kim Barley.
• To buy the 5-1/2" Cat's Cradle Emerald Green Four Seasons Spring Fairy Light
---
Exclusively from QVC.com!
Fenton Art Glass Autumn Gold Oval Bell
Item Number C111128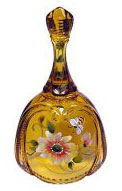 QVC Price $43.57
Part of Shelley's Keepsakes Collection, this bell is handcrafted in autumn gold glass by the master craftsmen at Fenton. The handpainted design displays a colorful sunflower in white, red, green, and black, accented with a round little bumblebee buzzing nearby. Designed by Stacy Williams. Limited Edition of 250. Individually numbered. Individually numbered. Handsigned by the artist who painted it. Includes a Shelley's Keepsakes card.
(7"h x 3-3/4"w x 3"d)
• To buy today, go to QVC.com and search for the item number.
---


Another great reason to visit the Fenton Gift Shop this Spring is our first-ever Spring Savings Spree. It's the perfect time to stock up on great all-occasion gifts with a fresh assortment of first-quality retired Fenton at 50% off and retired QVC items at 30% off.
Other collectible offerings throughout the week include the release of our first in a series of "Four Seasons" Blue Burmese Dolls ... Susan Bryan Gift Shop Exclusives ... a Dave Fetty "Hanging Hearts" egg and another silent auction drawing featuring two of Kelsey Murphy's unique sandcarved creations.

We hope to see you in Williamstown!
• For more information about our Spring Savings Spree (March 23 - April 1) please call 1-800-319-7793 (x383) or (x327) or email us at: service@fentongiftshop.com or go to www.fentongiftshop.com.
---
Fenton Gift Shop Exclusives...
To shop online for Fenton Gift Shop Exclusives, click here

Emerald Green Overlay Vase
A pillar of light in a dreary world, this magnificent Emerald green vase is carefully handcrafted by overlaying the Emerald on a field of Milk glass for a rich beauty and intensity. A wonderful piece!
---
Everything is discounted in the Fenton Clearance Corner. All first quality items. New items added weekly! shop now

Original Price $25.00 Now $20.00 This unique 4" Willow Green Opalescent Satin Vase with its embossed fisherman scene will delight any collector of marine life collector.

Original Price $44.00 now $35.50 This Emerald Green Carnival Grape Bell produced for our Centennial Anniversary bears the Fenton 100th logo. The deep shade of Emerald Green is sprayed with metallic salts while the glass is still hot. As the spray is applied, a rainbow of rich color emerges. The grapes and leaves are highlighted in gold and proudly signed by the individual artist who completes each piece.