"Angels we have heard on high..."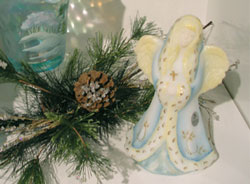 Sculpted by Fenton designer Suzi Whitaker, our new Snow Angel is truly an heirloom of the future. Everything about her - from the graceful pose to the rich decoration - reflects the true meaning of this special season.
Produced in Opal Satin glass, the Snow Angel is a hollow, asymmetrical figurine formed in a mould. The cast iron mould is a work of art in itself, for the mould and plunger must fit together perfectly to make this piece successfully. Suzi worked closely with our mouldmakers to be sure that the mould would "release" properly and allow the angel to be removed after pressing was complete.
Designer Robin Spindler developed the subtle blue blushed-on background, and Karen Augenstine renders it beautifully with her airbrush. Robin also created Alpine-style scrollwork in a rich chocolate brown. The details are exquisite, and accents and a handpainted cross in 22k gold add greatly to the allure of this piece.
We think our Snow Angel can be displayed with pride today, tomorrow, and forever.
• To buy the 7-3/4" Snow Angel
---

Fenton's New Catalog Coming January 2007!
Contains the Horizons Collection, new colors, Indigo Blue and Madras Pink, Studio Fenton, the Connoisseur Collection, new Carnival Glass and Effusion Lamps from La-Tee-Da!
---
We're in the midst of planning the "Fenton Festival of Glassmaking," which will take place in Williamstown on August 3-4-5, 2007. Plan now to attend. Remember to visit the Fenton web site from time to time to see what's in store as our plans take shape.

In the meantime, we need your help. What events would you most like to see at the Fenton Festival of Glassmaking?

Dave Fetty demonstrates glassmaking techniques.

(File Photo)
---
Fenton Gift Shop Exclusives...

Got Marbles?
We do…Made with Fenton Glass and proudly produced in WV. A generous amount of regular size marbles and two shooters with storage pouch included.

Opal Satin Peace Angel
This 6-1/2" Opal Satin Angel was inspired by the Winter Wonderland Collection from our 2006 Catalog. Our Featured Artist, Susan Bryan, designed and handpainted this precious angle.
---
Everything is discounted in the Fenton Clearance Corner. All first quality items. New items added weekly! shop now

Ring in the New Year with Fenton Bells!

Original price $19.50 now $14.50 The timeless Daisy and Button mould design is featured in this Ice Blue Pearl Bell. Crystal blue shades of a mountain sky are captured in this smart color. The addition of metallic salt to the finishing process allows the glass to reflect many shades of green, purple, gold and pink when exposed to variations of light.

• To buy the 5-1/2" Fenton Gift Shop Ice Blue Daisy & Button Bell

Original price $30.00 now $22.50 This petite 4-1/2" Mini Bell in Blue Topaz with white ring has been handpainted with a blue floral motif along with greenery. Inscribed with the signature of Tom Fenton this piece will be a perfect addition to any bell collection.

• To buy the 4-1/2" Fenton Gift Shop Blue Topaz Handpainted Mini Bell