This is our last week of our first ever "Holiday Sales Hunt." Our Online Tent Sale starts today. And don't forget, Free Shipping with a purchase of $100 or more continues until Thursday, 12/14. Enter Coupon Code: FF333 at checkout to redeem.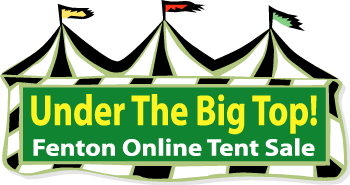 7 Big Days of Savings!
Sale Ends Wednesday, 12/20/2006
It's a once-a-year opportunity to shop online... Under the Big Top! for a wide variety of handcrafted Fenton at rock bottom prices. It's just like going to the annual Fenton Gift Shop Tent Sale, only this time you can shop from home!
Shop for lamps, vases, baskets, figurines ... Favrene, Cranberry, Chocolate, Cobalt Blue, Ruby ... Dave Fetty items and more!
You will find two types of items Under the Big Top! ... Preferred Seconds and Off Color - First Quality.
Preferred Seconds
Fenton glass must meet exacting quality standards regarding its color and shape. When a piece falls just outside the standard (such as a crimp that is too shallow or too deep), it may be classed as a "second" by one of our trained selectors. As the late Frank M. Fenton liked to say, "These seconds are attractive pieces of our glass, and they can be purchased at very reasonable prices." For many years, the Fenton Gift Shop has had a special area where Preferred Seconds are sold. We're now taking that area online, offering you these Fenton Preferred Seconds at very reasonable prices!
Off Color - First Quality
At Fenton Art Glass, we're very particular about the color of our glass products. In fact, we're so particular that we often have many different formulations for the same hue, depending upon whether the piece to be made is pressed or blown, thick or thin! For instance, we have nine different batches for our ruby glass. From time to time, we'll produce some very fine items whose color falls just outside the standard we've set. These pieces are called "off-color" (slightly dark or a bit light), but they are still attractive examples of Fenton glass. Here, in our online Off-Color area, we can offer these pieces to you at very reasonable prices.
Over 60 items are available Under the Big Top! now and more items will be added on Thursday!
• To shop our Preferred Seconds Area
• To shop our Off Color - First Quality Area
---
Enjoy FOUR hours of Fenton on QVC!
Mark your calendar and plan to join George Fenton for some exciting Fenton moments. One day, two shows, what fun! Treat yourself to that special piece!

Tuesday, December 19

4:00 am to 6:00 am ET

1:00 pm to 3:00 pm ET

A special QVC Preview will be emailed to Fenton e-Newsletter Subscribers on Monday, Dec. 18. Watch your email for it!

Remember, you can shop for Fenton exclusives on QVC ANYTIME by visiting www.qvc.com.
---

It's "Twelve Days of Samples!" from Fenton Art Glass on eBay!
December 6th to December 17th, 2006, Fenton Art Glass will celebrate the twelve days of Christmas with twelve days of very special pieces on our eBay auction site. You'll find things from Dave Fetty as well as the five elves in our decorating department--Kim Barley, Frances Burton, Robin Spindler, Stacy Williams and the Fenton Gift Shop's Featured Artist, Susan Bryan.
Each auction lasts just 24 hours! Log-on to our eBay store daily.
• To shop for items in our eBay store
• To preview the items from the "Twelve Days of Samples!"
---
Mrs. Claus Visits the Fenton Gift Shop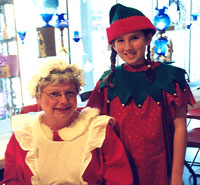 The Fenton Gift Shop in Williamstown welcomed Mrs. Claus and her elf assistant Cassie for an ornament decorating workshop on Saturday, December 9th.
All ages ranging from the young to the young at heart participated with Santa's better half in decorating a special Fenton keepsake they'll treasure for years to come.
The workshops, held throughout the day, offered the perfect opportunity for children and parents or grandparents to share some special holiday time together. The decorated ornaments, painted with the same type glass paint Fenton decorators use (Organic) was heated in an oven so that the design is everlasting...along with the special memories of hand painting it. The use of stencils made this annual hands-on experience...fun and easy too!
---
New! The Deal of the Day!
Each day the Fenton website will spotlight one special clearance item. The item can be found on www.fentonartglass.com. The item changes everyday at 9am ET. Each day, Monday through Friday, you can get a special price on one Fenton item. However, you'll need to shop early, because the item is available in limited quantities and only on sale until the next Deal of the Day! starts. Today's Deal of the Day! is the Fenton Gift Shop Yellow Topaz Compote.

4" Chocolate Kitten

Buy Now
Now Only $20.00
---
Everything is discounted in the Fenton Clearance Corner. All first quality items. New items added weekly! shop now

Original price $79.50 now $59.50 The intense glow of Fenton's furnaces is captured forever in the shimmering iridescence and luster inherent in the magic of Ruby Amberina Stretch. First produced in the early 1920s, the glamorous art deco style continues to captivate, and red remains the statement color in home dιcor.

• To buy the 11" dia. Ruby Amberina Stretch Plate

---

New! The Fenton Gift Registry

Fenton's Gift Registry makes it easy for fentonartglass.com shoppers to give and receive the perfect gift. It's a convenient way to show family and friends what you really want - and you'll know the gift you send will be treasured because it's exactly what they were hoping for!

To register today for FREE, click here.