This is our fifth week of our first ever "Holiday Sales Hunt." Over the next few weeks we'll have a unique and different event for you to enjoy. Free Shipping with a purchase of $100 or more starts today. Check back each week for our latest offer.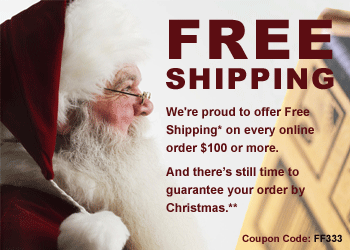 After your item has been packaged, it will be shipped and delivered free via one of the following carriers. The carrier used depends on your order value and destination.



Enter Coupon Code: FF333 to receive Free Shipping.

*Expires 12/14/06. Enter coupon code: FF333 at checkout to redeem. Must spend $100 on products not including sales tax. Free shipping not available for Express, Next Day Air, or 2nd Day Air. Free shipping does not include insurance. No cash equivalents will be given. Coupon code valid only on www.fentonartglass.com.
Fenton ships to the United States only, including Alaska and Hawaii. Fenton does not ship to Guam, Puerto Rico or the U.S. Virgin Islands. If you order more than one item, it may be shipped from more than one location. Items are shipped in 2-3 business days after the order is placed. Business days are Monday through Friday, excluding holidays.
**12/18/2006 is the last day to place online orders to guarantee delivery by Christmas. No exceptions.
---
Fenton for Christmas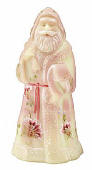 As the Christmas season approaches, our thoughts turn to Santa Claus and angels, two of the images most closely associated with this festive, yet holy time. Once again, Fenton offers limited edition figurines in Burmese glass to mark this special time of the year.
Our Medieval Santa, a perfect vintage "St. Nicholas," has a most elegant demeanor. This figurine was designed by Fenton sculptor Jon Saffell and first appeared in the Fenton line in 1997. He's been a favorite ever since!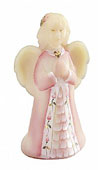 For 2006, designer Stacy Williams has him all decked out in a stylized Jacobean floral decoration that is meticulously handpainted. Santa's robe is trimmed with glittered fur, too!
Our girl Angel is the perfect "little sister" to the Winter Angel we offered last year. Kim Barley's design of velvet and lace includes a delicate floral motif, and a handpainted pendant in 22k gold adds and exquisite touch to this charming piece.
Both the Medieval Santa and the Angel are limited editions, individually numbered and personally signed by the talented artist who has completed them.
• To buy the 8" Burmese Medieval Santa
• To buy the 5" Burmese Girl Angel
---
Give "Year-Round" Cheer!
A Gift Subscription to the Glass Messenger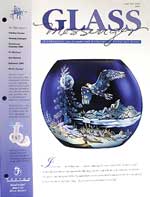 The Glass Messenger is a great way for Fenton enthusiasts and glass collectors to keep up with the latest Fenton Art Glass events and product introductions.
Subscribers receive a number of great materials including a "free" binder to hold each information packed issue.

• Click here to learn more!
• To buy a gift subscription to the Glass Messenger (4 issues includes FREE binder with initial order)
• To purchase past issues of the Glass Messenger
• To buy the Glass Messenger binder
---
New! The Deal of the Day!
Each day the Fenton website will spotlight one special clearance item. The item can be found on www.fentonartglass.com. The item changes everyday at 9am ET. Each day, Monday through Friday, you can get a special price on one Fenton item. However, you'll need to shop early, because the item is available in limited quantities and only on sale until the next Deal of the Day! starts. Today's Deal of the Day! is the Fenton Gift Shop Yellow Topaz Compote.

Yellow Topaz Compote Buy Now
Now Only $99
---
Fenton Gift Shop Exclusives...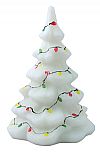 Opal Satin Christmas Tree with Handpainted Lights
Produced exclusively for the Fenton Gift Shop this 6" White Opal Satin Tree has been handpainted with a colorful strand of Christmas lights.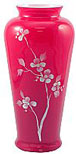 Ruby Plated Amberina Stretch Vase
Wow…This Ruby Plated Amberina 10" tall vase is stunning with a simple handpainted cherry blossom design. Limited and numbered to 65 pieces this elegant vase has been produced as a new Gift Shop exclusive for 2006.
---
Everything is discounted in the Fenton Clearance Corner. All first quality items. New items added weekly! shop now

Original price $85.00 now $63.75 Cobalt is the staple decorating color and is perfect for French Country, Americana, or basic blue and white dιcor found in today's homes. This "Yankee Scroll" theme on this Candy Box was designed by Frances Burton.